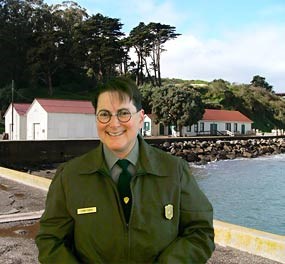 Lynn Fonfa, Education Specialist
Golden Gate National Parks
Introduction
This article provides information primarily for National Park Service education specialists who may be interested in establishing a relationship with a local university or college with a teacher credential program. The section is written from the perspective of the NPS staff that designed and collaborated on PARK Teachers. Embedded are suggestions from our university partner.
The following background information is included in this document:
• The reasons the NPS decided to pursue this project;
• Ways the staff of the Golden Gate Parks are committed to K-12 and education partnerships;
• How Golden Gate and university formed the project team; and
• How the needs of the park, the partners, and the audiences were met and evaluated.
Setting the Stage
Building on the strength of National Park Labs, a highly successful project that supported the development of high school science programs in six national parks, Toyota USA Foundation once again joined the National Park Service (NPS) to launch PARK Teachers at Golden Gate National Recreation Area, familiarly known as the Golden Gate National Parks. Golden Gate
PARK Teachers is a collaborative effort undertaken by university faculty, nonprofit education partners, teachers, and Golden Gate to introduce new secondary science teachers to national parks as premier places of learning while they are earning their teaching credential.
PARK Teachers also introduces and affirms place-based and learner-centered education, and demonstrates the ways in which national park education programs help support education standards. Pre-service teachers are the primary participants because they:
•Can be overwhelmed with curriculum mandates;
•Are not certain how outdoor pedagogy can enhance their teaching and student learning;
•May have limited contact with experienced teachers who know how to access community resources;
•Tend to be assigned to schools in low-income areas whose students have less exposure to national parks; and
•Seek guidance in designing units that are inquiry-based and hands-on.
PARK Teachers was designed to meet these critical goals:
•Create a module on place-based and inquiry-based education and integrate it into science methods courses for pre-service and induction-period teachers. The module focuses on using informal science education resources, such as national parks, to enhance formal science instruction and engage students in authentic science.
•Develop and build a model partnership with colleges of education that provides guidelines for other national parks and colleges of education to establish collaborative partnerships to help advance the practice of place-based and inquiry-based science teaching methodology.
•Demonstrate the use of technology as a tool for enhancing place-based and inquiry-based science education.