Nature Detectives Game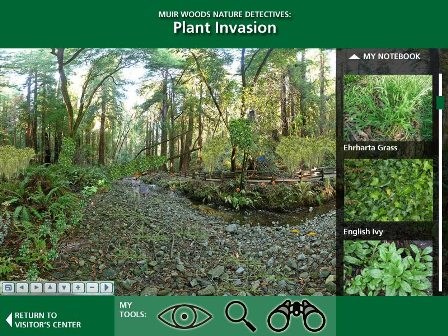 Nature Detectives is an educational game (linked to 3rd to 5th grade science) in which players explore the ancient redwood forest of Muir Woods National Monument. Choose your challenge - Crustacean Frustration, When a Tree Falls in a Forest, Plant Invasion, or What Needs Fog? - or, just take a close look at the redwood forest through beautiful 360 degree panoramas. You can experience the sights and sounds of the redwood forest, while learning about habitats, adaptations, interdependence, and species competition.
The activity is designed to take about 20 to 40 minutes and must be completed in one sitting. Your data will not be saved once you quit the game.
The game requires your monitor to be set to at least 800x600 resolution and you must have Flash version 8 or greater installed to play. If you don't see a way to start the game on the entry page, you probably need to update your version of Flash.
· Play Nature Detectives -- Please be patient, it may take several minutes to load.
· Play screen reader accessible version of Nature Detectives

Last updated: February 28, 2015