Green Thumbs Up
Grade 4
This program is full for the 2016-2017 school year.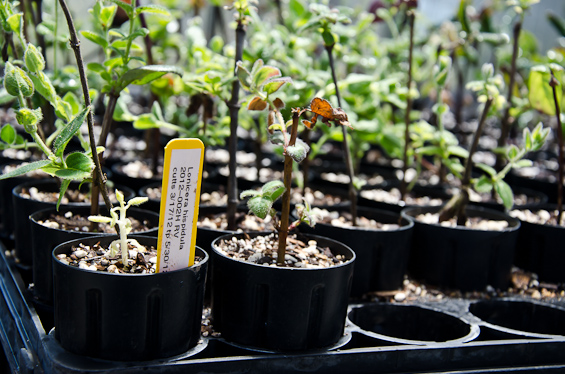 Green Thumbs Up! awakens the field ecologist in your students as they visit the park native plant nurseries (at the Presidio, Fort Funston, and the Marin Headlands) to help grow California indigenous plants destined for park restoration projects. They will delve into biodiversity, adaptation, pollination, and the plant growing cycle.
Green Thumbs Up! uses the Understanding by Design framework, aligns with the Next Generation Science Standards, and incorporates tenets of Service Learning.
Please click here for the Green Thumbs Up! Understanding by Design grid.
Program Description

Green Thumbs Up! is framed by the Essential Question – " Why do plants, pollinators, and people need each other?
Green Thumbs Up! is structured in three parts:
Classroom preparation – lessons delivered by the teacher with resources provided by the park

Service Learning field session – the nursery experience in which students engage in scientific inquiry, stewardship contributions, and self-reflection through hands-on rotations
Classroom assessment - opportunities for students to demonstrate what they have learned through planning and conducting school or neighborhood stewardship projects, performing a phenology project at school, or writing stories or illustrated poems based on evidence and experience gleaned during the program
Last updated: November 4, 2016