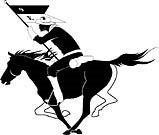 Welcome to Honorable Duty: The Moral Dilemma of the Buffalo Soldiers. This special toolkit is designed to supplement your unit on the Spanish American War, the War for Independence in the Philippines, and American Expansionism in the Pacific. It also can be utilized for studies of civil rights and institutional racism during the early 20th century. Resources in this packet introduce students to the African American soldiers who served in segregated army units during the early 1900s, and were among the first to patrol national parks in California.
Honorable Duty is framed by the essential question: In what ways did the exemplary military service of the Buffalo Soldiers enable the doctrine of white supremacy? In this toolkit, you will find lessons designed by National Park Service and classroom educators, teaching materials, and recommendations for further research.
Students will use historical analysis and critical thinking skills as they consider expansionism through the eyes of the African American soldiers and press. Using these resources, students also can conduct research into primary and secondary sources that continue the story of African Americans in the 20th century. With this deeper understanding, students can prepare themselves to participate in the national debate on the quest by other racial, cultural, and sexual minorities to obtain full citizenship through military enlistment.