Maintenance VIP Program
Program Overview
Golden Gate Maintenance Volunteers-In-Parks Program invites you to volunteer. Come join the fun and help preserve and protect your national park! Maintenance volunteers help protect and beautify the historic landscapes and cultural resources throughout National Park Service owned lands in San Francisco and San Mateo counties. Projects include litter and sand removal, planting native flora, weeding invasive plants, vegetation pruning, painting, site improvements, and trail maintenance.

Join us at a drop-in program or special event, schedule a program for your group, become an intern or adopt a special site. There are many ways you can support your park through volunteer service projects.
---
Group Programs
If you have a group of 5 or more volunteers, please schedule a separate volunteer project just for your group. Group programs are booked through our official park partner, Golden Gate National Parks Conservancy. Maintenance Volunteer Projects are listed under Landscaping and Maintenance section of document. View available dates on-line and submit request for program via form.
---
Drop-In Programs
Volunteer programs take place from 9AM to Noon every Wednesday, Thursday, and Friday, except on Federal Holidays. Individuals, families, and small groups can join volunteer programs without pre-registering. All tools and supplies are provided for program.

Come join the fun! Volunteers should wear clothes that can get dirty, long pants (required), long sleeved shirt (recommended), sturdy shoes or boots (required). Be prepared for variable weather conditions by dressing in layers, bringing a refillable water bottle, wearing sunscreen, hat, jacket, sunglasses, and raingear.

View map for directions to meeting locations.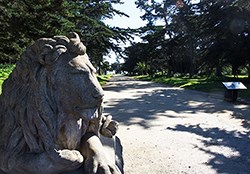 Sutro Heights Park | Every Wednesday 9am to Noon
North entrance of park by lion statues gate across the street from the Lands End Lookout Visitor Center parking lot just west of intersection of Point Lobos Avenue, 48th Avenue, & El Camino Del Mar in San Francisco.
View map of meeting location.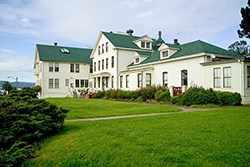 Fort Mason | Every Friday 9am to Noon

Meet at flagpole in front of Park Headquarters just west of intersection of MacArthur Avenue & Franklin Street in San Francisco.

View map of meeting location.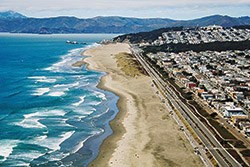 Ocean Beach | Every 2nd Friday 9am to Noon
Parking lot just south of intersection of Great Highway and John F. Kennedy Drive in San Francisco. Meet near Stairwell #17.
View map of meeting location.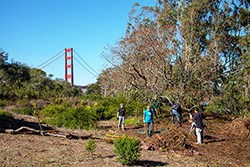 Presidio Shoreline and Beyond | Every Thursday 9am to Noon
Location varies weekly consult list below for details.
View
map
of meeting locations.
October 2019
10/3 East Beach
10/10 Building 988 (near Warming Hut)
10/17 Lands End Lookout - Merrie Way Parking Lot
10/24 Lobos Creek
10/31 Crissy Airfield - Stilwell Hall
November 2019
11/7 East Beach
11/14 Building 988 (near Warming Hut)
11/21 Lands End Lookout - Merrie Way Parking Lot
11/28 Thankgiving Holiday (No Program)
December 2019
12/5 East Beach
12/12 Building 988 (near Warming Hut)
12/19 Navy Memorial
12/26 No Program
---
Special Events
Special events will be updated on this website and/or our park partner event site when we know the program dates for each year.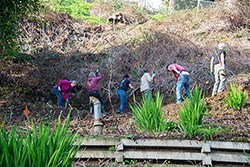 Martin Luther King Jr. Day of Service | January
Martin Luther King Jr. Day of Service calls on everyday people each year to make the third Monday in January "a day on, not a day off."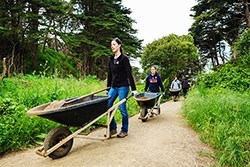 Earth Day | April
Volunteer program to celebrate Earth Day, usually on the Saturday on or before Earth Day.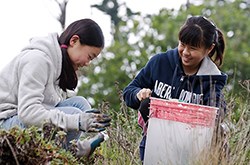 National Park Week | April
National Park Week typically has special programs and extra group projects available and Junior Ranger Day and Earth Day usually fall during National Park Week.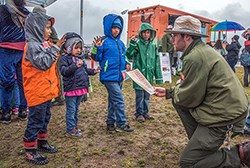 Junior Ranger Day | April
Volunteer to earn your Junior Ranger Badge! As part of the Junior Ranger Day celebration, volunteers can do a restoration or litter project.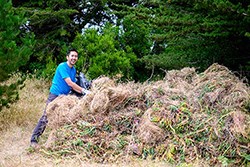 National Trails Day | June
First Saturday in June is National Trails Day.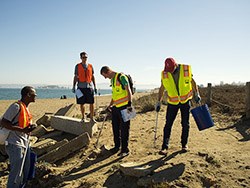 Coastal Cleanup Day | September
Third Saturday in September is our state's largest annual volunteer event – California Coastal Cleanup Day! This is a park-wide event with many opportunities to volunteer to cleanup and beautify the park.
---
Required Volunteer Forms
Please complete, sign and date the required volunteer agreements prior to arriving at the volunteer program. Each volunteer must have a signed volunteer agreement in order to participate in the volunteer program. Each volunteer under 18 years old must have agreements signed by parent or legal guardian.

Volunteer Agreement form
Instructions for Volunteer Agreement
Last updated: October 1, 2019