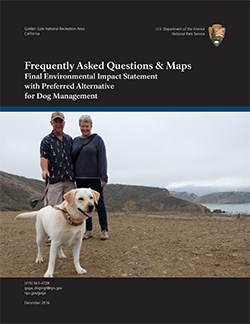 PDF of Maps and FAQs
(10MB)
Jump to Maps

Frequently Asked Questions


Q: Why is GGNRA implementing a new Dog Management Plan?



Golden Gate National Recreation Area (GGNRA) is currently operating under an outdated pet policy developed in 1979.

The Bay Area population has increased over 40% since the 1979 Pet Policy was put in place, and is expected to grow another 24% by the year 2040, reaching a population of 9.3 million people. The Dog Management Plan would protect natural and cultural resources, provide safe, healthy, clean, and fun recreational experiences for all visitors, and preserve our national heritage for future generations.

Since 1979, park visitation has grown significantly along with our understanding of park resources. GGNRA now welcomes 17 million visitors each year. Park inventories have documented more than 3,800 species, including 37 federally endangered and threatened species, several of which may be affected by dog walking. The park's growing popularity sometimes results in conflicts between people, dogs, and park resources. Law enforcement has documented a growing number of conflicts, averaging more than 300 dog-related incidents each year (during an initial study from 2008-2011).

A Dog Management Plan is now needed to ensure a safe, healthy, meaningful, and enriching experience for all of our park visitors while protecting park resources for future generations to come.




Q: Where is GGNRA in the planning process?



The National Park Service is entering the final planning stages in the development of a Dog Management Plan and Final Rule for Golden Gate National Recreation Area (GGNRA).

As a next step, a Final Environmental Impact Statement (FEIS) analyzes alternative approaches to dog management and recommends a Preferred Alternative. A Record of Decision (ROD) will follow signaling federal approval of the FEIS Preferred Alternative. The planning process will conclude with the publication of the Final Rule in the Federal Register early next year.

The Final Rule will specify an effective date. Implementation of the Final Rule will include public outreach and education and the installation of signage, fencing, vegetation and other physical barriers that are critical to the successful implementation of this new dog management special regulation.

The FEIS, ROD, and Final Rule represent the final steps in a 14-year process, informed by public comment, to develop a commonsense rule that supports the wide variety of recreational activities found at GGNRA in a safe environment, while protecting natural and cultural resources for future generations.




Q: What is a "Rule" for dog management?



Federal Agencies, such as the National Park Service, have rules and regulations that guide policies, programs, and management. In order to update or change these rules, a rulemaking process is necessary.

The Rule for Dog Management in the GGNRA will identify places in the park where dogs are welcome – both on-leash and under voice and sight control – as well as areas that are dog-free. It will also describe the responsibilities of dog owners to manage their dogs effectively and requirements for people walking 4-6 dogs at one time.

 


Q. How does the Dog Management Plan/FEIS Preferred Alternative reflect public comment?



GGNRA received more than 16,000 public correspondences during the overall dog management planning process. Comments have been categorized and responded to in public planning documents. The FEIS Preferred Alternative incorporates a number of changes as a result of more than 4,100 public comments on the proposed rule. A partial list of recent changes since the proposed rule includes:

o Addition of voice and sight control area at Rancho Corral de Tierra (Flat Top)
o Addition of on-leash loop trail at Muir Beach (Kaashi Way)
o Expansion of both voice and sight control and dog free areas at Crissy Field
o Realignment and expansion of on-leash area at Baker Beach
o Addition of an accessible on- and off-leash trail at Fort Funston
o Addition of on-leash trail at Mori Point (Mori Headlands Trail)
o Addition of on-leash trail to overlook at Milagra Ridge (Milagra Ridge Road)




Q: How were alternatives and comments assessed? How do I find out why something was or was not included in the plan?



An interdisciplinary team carefully considered all public comments and dog management plan alternatives to determine which would best accomplish the purpose and need of the proposed action while fulfilling NPS's statutory mission and responsibilities, giving consideration to economic, environmental, technical, and other factors.

Comments and alternatives were incorporated when they helped the park meet the purpose and need of the plan while fulfilling its statutory mission and responsibilities.