The Evolution of Crissy Field
Crissy Field is the focus of many stories from land conservation and military history to restoration and community to art and recreation. New stories are constantly being created as more than a million people visit Crissy Field every year. Check out the video above or the timeline below to learn more.
View the text alternative for the Timeline infographic below: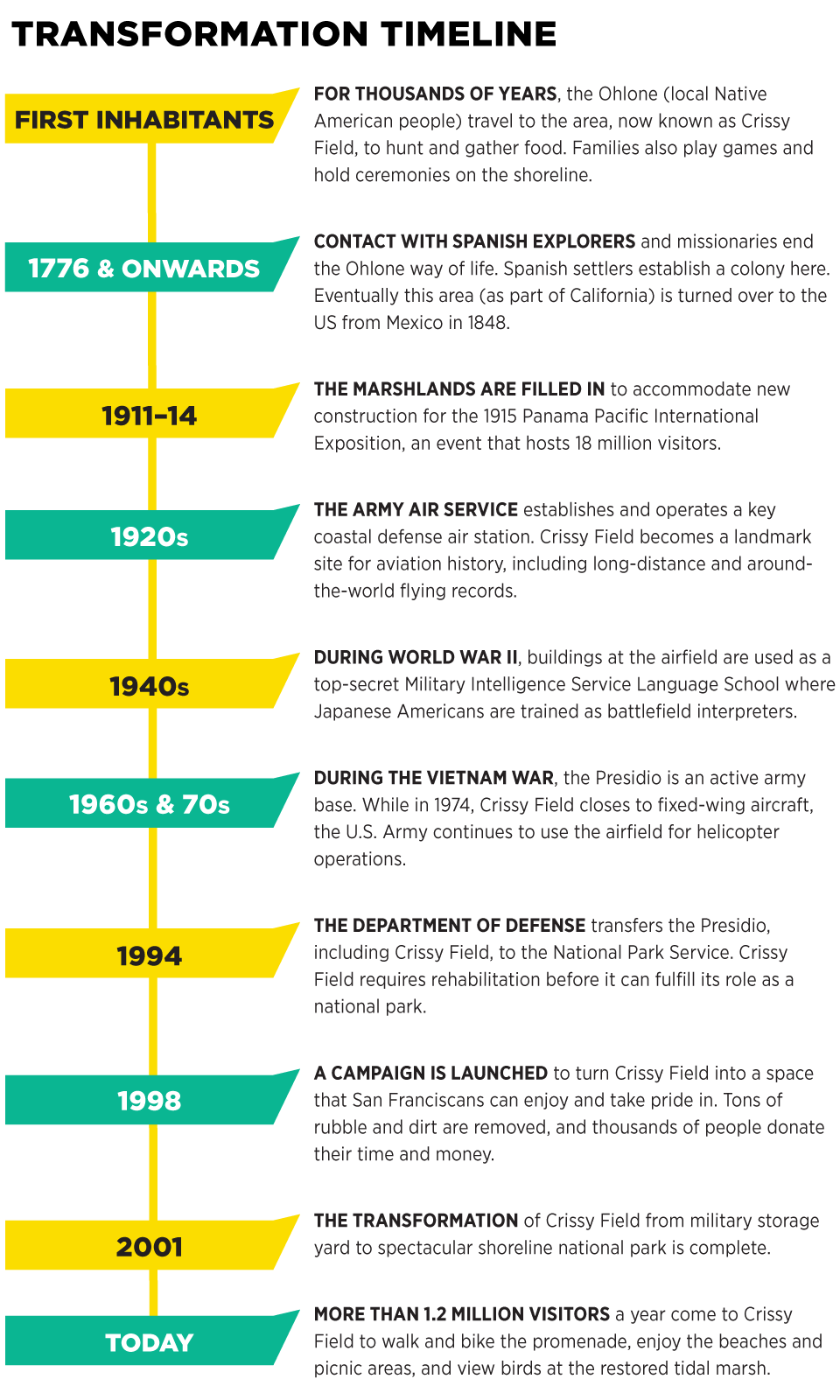 What will your Crissy Field story be? We invite you to help create it.
---

Transformation Timeline
First Inhabitants: For thousands of years, the Ohlone (local Native American people) travel to the area, now known as Crissy Field, to hunt and gather food. Families also play games and hold ceremonies on the shoreline.
1776 and onwards: Contact with Spanish explorers and missionaries end the Ohlone way of life. Spanish settlers establish a colony here. Eventually this area (as part of California) is turned over to the US from Mexico in 1848.
1911-14: The marshlands are filled in to accommodate new construction for the 1915 Panama Pacific International Exposition, an event that hosts 18 million visitors.
1920s: The Army Air Service establishes and operates a key coastal defense air station. Crissy Field becomes a landmark site for aviation history, including long-distance and around-the-world flying records.
1940s: During World War II, buildings at the airfield are used as a top-secret Military Intelligence Service Language School where Japanese Americans are trained as battlefield interpreters.
1960s & 70s: During the Vietnam War, the Presidio is an active army base. While in 1974, Crissy Field closes to fixed-wing aircraft, the U.S. Army continues to use the airfield for helicopter operations.
1994: The Department of Defense transfers the Presidio, including Crissy Field, to the National Park Service. Crissy Field requires rehabilitation before it can fulfill its role as a national park.
1998: A campaign is launched to turn Crissy Field into a space that San Franciscans can enjoy and take pride in. Tons of rubble and dirt are removed, and thousands of people donate their time and money.
2001: The transformation of Crissy Field from military storage yard to spectacular shoreline national park is complete.
Today: More than 1.2 million visitors a year come to Crissy Field to walk and bike the promenade, enjoy the beaches and picnic areas, and view birds at the restored tidal marsh.
Last updated: October 1, 2018