The Gem of Glen Echo Park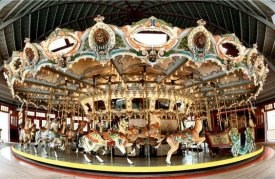 During Glen Echo Amusement Park glory days as an amusement park, the Dentzel Carousel was the jewel of the park and it still remains the most treasured centerpiece of the park for visitors.
An afternoon outing was not complete without a ride on the carousel. The carousel was manufactured by the Dentzel Carousel Company and brought to the park in 1921 installed in a 12-sided canopy building in 1921.
Dentzel Carousels are known for their realistic, graceful animals and elaborates carvings. The Glen Echo carousel is called a "menagerie carousel" because of it is made up of many different animals. The 40 horses, 4 rabbits, 4 ostriches, giraffe, deer, lion, and tiger stand in three concentric rings. The carousel moves to the music of a Wurlitzer band organ. Only 12 Wurlitzer organs of this style are known to exist.
When the amusement park closed, rides were sold including the carousel. Glen Echo Town councilwoman Nancy Long organized a successful fundraising drive to buy back the park's beloved carousel. Local residents mounted an aggressive campaign that raised $80,000 in private funds to buy the carousel from an organization that had purchased it after the park closed. An additional $10,000 assured the return of the Wurlitzer organ.
The carousel and organ were donated to the National Park Service with the understanding that they would remain at Glen Echo Park and be operated for public enjoyment.
Last updated: July 13, 2021