Your Fee Dollars At Work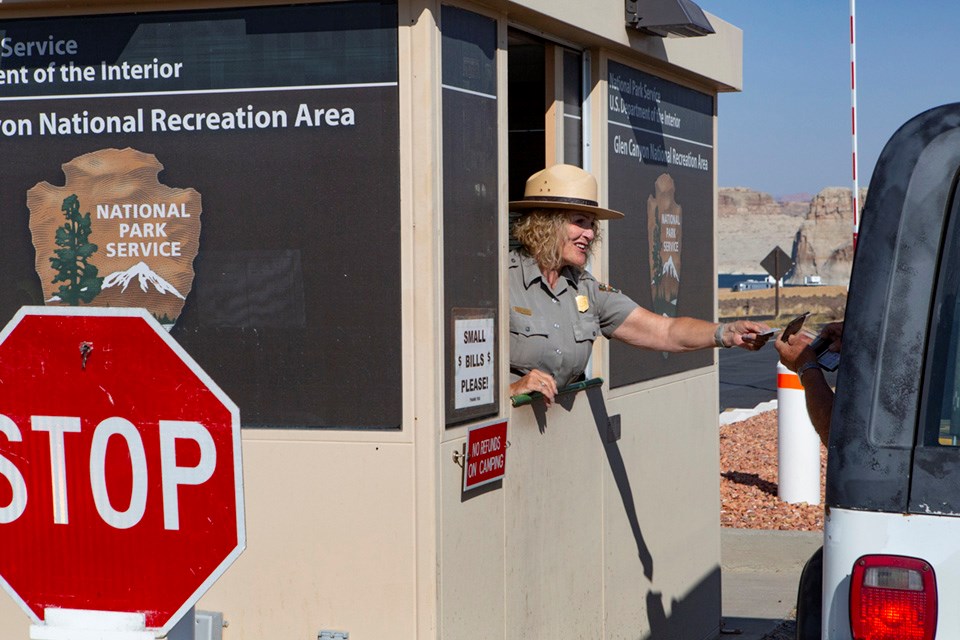 Thank you for supporting your public lands. The National Park Service collects Recreation Fees under the Federal Lands Recreation Enhancement Act (FLREA), providing a vital source of revenue for improving facilities and services for park visitors. Here at Glen Canyon National Recreation Area, 80% of the money collected is retained right here at our park, with the additional 20% to be used at fee free parks. This means that the money you hand to the Ranger in the Entrance Station is being put to excellent use here at Glen Canyon! All of these projects are important to the continued preservation of your national parks.

Take a look below at just a few of the ongoing and/or past projects and thank you again for your support.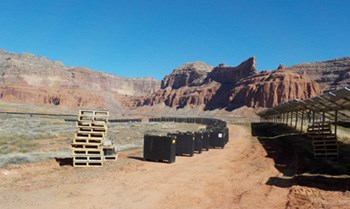 Replace Commercial Batteries at Dangling Rope

There are no roads and no power lines to access Dangling Rope Marina and the millions of visitors it serves every year. Everything runs off the array of solar panels installed in the early 1990s. The photovoltaic power system produces electrical power for boat pump-outs, fuel docks, life stations, water distribution and pumping facilities, two fire suppression systems, trash operations, maintenance shops, and a general store. This critical link for boaters helps connect Lake Powell and Rainbow Bridge National Monument with fuel and as a safe haven during storms. The replacement of the aging batteries ensures park operations at Dangling Rope will continue uninterrupted and more efficiently.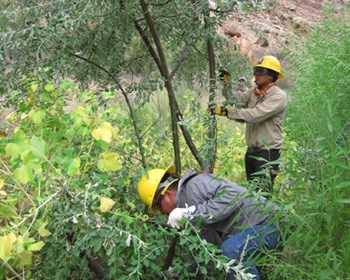 Habitat Restoration Along the Colorado River

Glen Canyon National Recreation Area is currently threatened by six highly invasive non-native plants, including the Russian knapweed, Camelthorn, Tamarisk, Russian Olive, Ravenna Grass, and Sahara Mustard. This habitat restoration project preserves the native ecosystems. This project also engages the Southwest Conservation Corps Ancestral Lands Program by controlling these unsafe species and jumpstarting the restoration of native plant communities in high visitor use areas.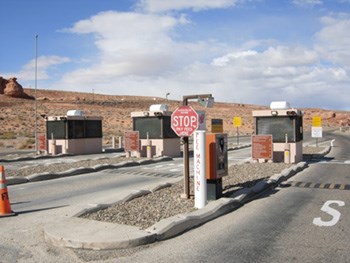 Redesign of Park-wide Entrance Stations
Approximately 4.3 million people each year drive through the Entrance Stations at Glen Canyon National Recreation Area. In many cases, the Fee Collector Rangers are the first and only National Park Service employees they see. The Entrance Stations will be redesigned with storage for supplies to visitors (maps, safety information, passes), and an area for Fee Collectors to have a lunch and/or break throughout the day. Unattractive and outdated, the current Entrance Stations and adjacent micro-flush toilets will be upgraded to meet safety regulations and guidelines as well as provide an improved viewshed and assist with lighting regulations for Glen Canyon's Dark Sky program.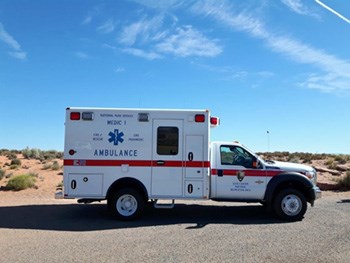 Emergency Medical Services
The Emergency Services Management (EMS) Program serves the visitors at Glen Canyon National Recreation Area through professional emergency response including pre-training of EMS employees, the operation of two ambulances, and three air medical services with a rapid response time. A Park Medical Advisor provides technical guidance and physician oversight. We work with a number of nearby medical facilities, including the City of Page Fire Department, the Flagstaff Medical Center, and Saint Mary's Hospital and Regional Medical Center to provide the necessary care for patients. The EMS Program will continue to be a responsive customer service orientated system very open to patient/victim feedback with the goal of zero to low injury rate amongst visitors and employees.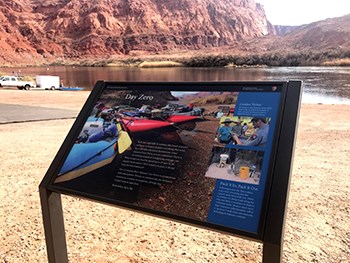 Replacement of Interpretive Media and Enhancement of Trail Information at Lees Ferry
In January 2020, new wayside exhibits were installed throughout the Lees Ferry District, including informational panels, metal bases, posts, and concrete pads. Some of the new waysides and trailhead signs replaced old, weathered ones, long out of date. These new waysides provide safety information, maps, as well as text and graphics to explain local history, geology, and ecology. New trailside signs along Lonely Dell Ranch and the Historic River Trail replace the old paper trail guides, eliminating printing and saving trees. With improved visitor information, well-marked trails, and self-guided walking tours visitors can enjoy the view and learn at the same time.
Last updated: February 24, 2020