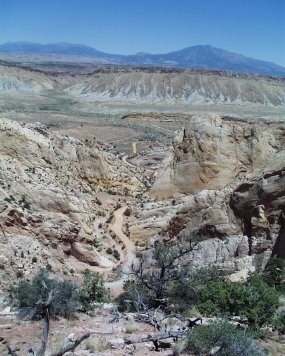 The Burr Trail takes the adventurous traveler into some of Utah's most beautiful and extraordinary country. Views of the Henry Mountains, the colorfully contorted Waterpocket Fold, red Circle Cliffs, and Long Canyon all await the traveler who wishes to drive this interesting back road. Numerous hikes and side trips are available for those with the time and inclination.
John Atlantic Burr was born in 1846 aboard the SS Brooklyn somewhere in the Atlantic Ocean. He and his family lived in Salt Lake City, then later moved south and established the town of Burrville, Utah, in 1876. John Burr soon developed a trail to move cattle back and forth between winter and summer ranges and to market. This cattle trail through the rough, nearly impassable country around the Waterpocket Fold, Burr Canyon, and Muley Twist Canyon came to be known as the Burr Trail.
Today, the road which connects Bullfrog and Boulder, Utah, and which passes through the painted rock country of Glen Canyon National Recreation Area, Capitol Reef National Park, and Grand Staircase-Escalante National Monument land is known as the Burr Trail.
Road Conditions
Although in dry weather the Burr Trail is easily accessible to passenger cars, wet weather may make the road impassable even for 4WD vehicles. RVs not recommended.
For latest road conditions and travel information, call the Escalante Interagency Visitor Center at 435-826-5499 or check the Road Report from the Bureau of Land Management.