Driving the Burr Trail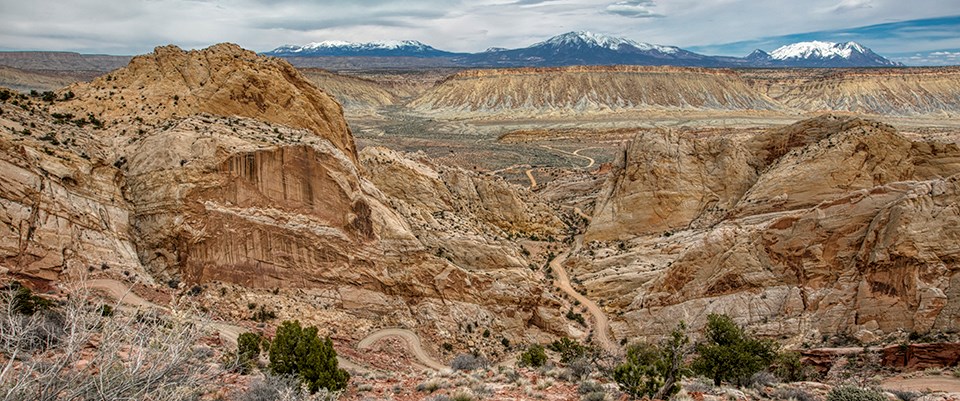 Travel Utah's Beautiful Backcountry Along the Burr Trail

Located just outside the northeast region of Glen Canyon National Recreation Area in Bullfrog, the Burr Trail offers excitement for the adventurous explorer. Views of features like the Henry Mountains, Waterpocket Fold, the red Circle Cliffs, Long Canyon, and Pedestal Alley await the traveler who wishes to explore this interesting road. To fully enjoy the journey always be well prepared. Make sure you have plenty of water, a first aid kit, proper footwear, sunscreen, a hat and a means of communication.
For latest road conditions and travel information, call the Escalante Interagency Visitor Center at 435-826-5499 or check the most recent Road Report. If you are having an emergency, call 911.
History of the Trail

John Atlantic Burr was born in 1846, during his family's journey from New York to San Francisco on the SS Brooklyn while sailing across the Atlantic Ocean. Once they arrived, Charles and Sarah Burr then set out to Salt Lake City with their new baby. As part of the early pioneers from the Church of Jesus Christ of Latter-Day Saints, the Burr family eventually moved south in 1876 and founded the town of Burrville, Utah.

John Burr grew up to be a cattle rancher in the rugged backcountry of Utah. Living in such a desolate area, he needed to develop a route to move his cattle between winter and summer ranges, as well as to market. This cattle trail through the rough, nearly impassible country around the Waterpocket Fold, Burr Canyon, and Muley Twist Canyon came to be known as the Burr Trail.
Tips for a safe and enjoyable trip
Pack out what you pack in. Carry out all trash and food scraps. Help keep wildlife wild by not feeding them human food.
Always take plenty of drinking water with you. One gallon per person per day is recommended. Make sure to eat to balance electrolyte loss and bring snacks.
Flash floods happen in an instant here. A storm can appear out of nowhere, sending water flooding into a canyon. If you see or hear a threat of rain or storms, DO NOT RISK your safety for the scenery. Never enter washes or narrow canyons when it is raining or threatening to rain.
Check with a ranger or official for road and weather conditions before starting your trip.
Warning: there is limited cell service in this area. Leave your trip itinerary with someone so you can be located in case of car trouble or other mishaps.
Leave the scenery as it is. Do not write or carve on rocks, do not disturb plants or wildlife. Take only pictures, visit with respect and leave no trace.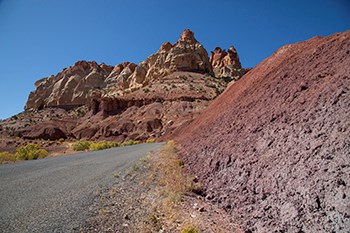 Driving the Burr Trail
The Burr Trail connects Bullfrog and Boulder, passing through Glen Canyon National Recreation Area, Capitol Reef National Park, and Grand Staircase-Escalante National Monument.

Please note: Although in dry weather the Burr Trail is easily accessible to passenger cars, wet weather may make the road impassable even for 4-wheel drive vehicles. Check with rangers or local officials for weather and road conditions. Recreational Vehicles and trailers are not recommended.
Mile by Mile Guide to the Burr Trail
Whether traveling to Bullfrog or Boulder, this mile by mile guide will help point out junctions, trailheads, side roads, and scenic views, as well as provide some interesting information about the geology, plants, and human history of the area.

Please note: Mileages indicated in this booklet to not allow for side trips. Your odometer may not reflect the exact distance listed here. Please keep this in mind as you look for roads, trails and scenic features.

Download the complete pdf guide here.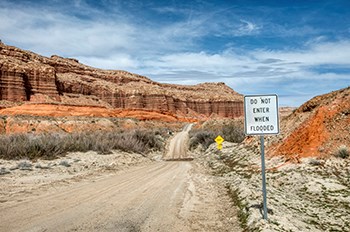 When Lake Powell is at full pool, water can extend up the wash as far as the road! After a rain, the wash can be wet and muddy. Use caution when entering this wash if the streambed is wet.
This area between Glen Canyon National Recreation Area and Capitol Reef National Park is a section of Grand Staircase-Escalante National Monument. To the north is an excellent view of Clay Canyon.
To the southwest is the rounded form of Navajo Mountain. Known geologically as a laccolith, this mountain was formed by igneous magma (molten rock) which pushed up under the already existing sedimentary layers. To the west is the Waterpocket Fold, a colorful eroded fold of rock layers nearly 100 miles (162 km) long but only a few miles wide. To the south, Upper Bullfrog Bay and Upper Halls Creek Bay can be seen.

Like Navajo Mountain, the Henry Mountains are also laccoliths, formed when magma pushed overlying sedimentary rock up into a dome. Much of the sedimentary rock has since been eroded away, exposing the igneous rock underneath. Five distinct peaks make up the Henry Mountains, from west to east they are:
Mt. Ellen: 11,615 ft (3540 m) elevation
Mt. Pennell: 11,371 ft (3466 m) elevation
Mt. Hillers: 10,723 ft (3268 m) elevation
Mt. Ellsworth: 8,235 ft (2510 m) elevation
Mt. Holmes: 7,930 ft (2417 m) elevation

The Henry Mountains were among the last mountain ranges in the continental United States to be named. When Major John Wesley Powell saw them in 1869, during his exploration of the Green and Colorado Rivers, they did not appear on any official map. Powell first called the mountains the "Unknown Mountains" but later named them for Professor Joseph Henry, who was Secretary of the Smithsonian Institute at the time. Each of the peaks were named for the members of the Powell expedition, and Ellen was John Wesley Powell's wife.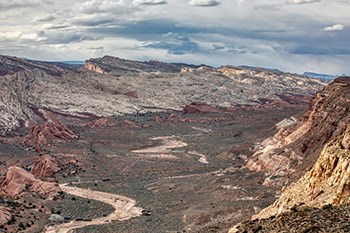 This road, located on the west side of the Burr Trail, provides another access route to Halls Creek Overlook. It is 7.1 miles (11.4 km) to the overlook. Although longer it may be less rough for passenger cars, however it is still a fairly rough backcountry road and may have rocky and steep grades in certain areas. When it is wet, the road may be impassable for all types of vehicles.
Halls Creek Overlook road branches off to the west. It is 3 miles (5 km) to the overlook. The road is very rough and may not always be passable for passenger cars, high clearance and 4-wheel drive are recommended. When it is wet, the road is impassable for all types of vehicles.

At the overlook, there is a superb view of the Waterpocket Fold, Brimhall Natural Bridge, and the large, colorful expanse of the desert environment. Beginning 50 to 70 million years ago, the Waterpocket Fold formed from tilted sandstone layers that were later eroded into cliffs, arches, and Brimhall Natural Bridge is an unusual double arch, named for Dr. Dean Brimhall, an authority on prehistoric Native rock art in Utah's rugged canyon country. A rough 2.5 mile (4 km) trail descends the cliffs and leads across the valley floor and into the canyon to Brimhall Bridge. The trail is difficult to hike and involves wading. It should be attempted by experienced hikers only!

Experienced hikers can continue their adventure by hiking through Halls Creek Narrows. Please be aware this is an unmarked route that is 22.4 miles total roundtrip, requires wading and scrambling, is subject to hazards such as flash floods, rock falls and canyon obstacles, and should be completed over three to four days with the aid of map reading and navigation experience. A backcountry permit is required for overnight trips, available at the Bullfrog Visitor Center.
Starr Springs Road gives access to the Henry Mountains; a high clearance 4-wheel drive vehicle is needed. Starr Springs is 21 miles (33.8 km) to the east, on the east side of the Henry Mountains. There is a BLM campground at Starr Springs, and from there the road connects in approximately 5 miles (8 km) with UT Hwy 276.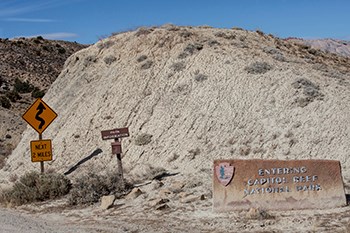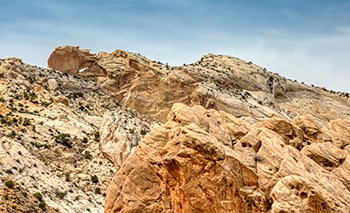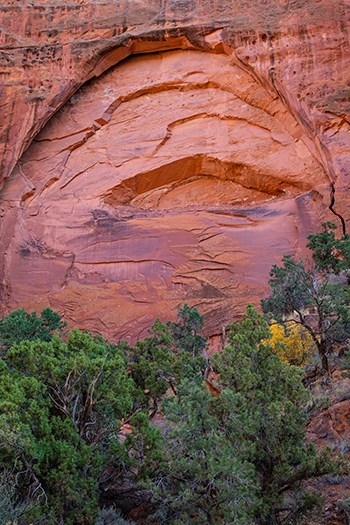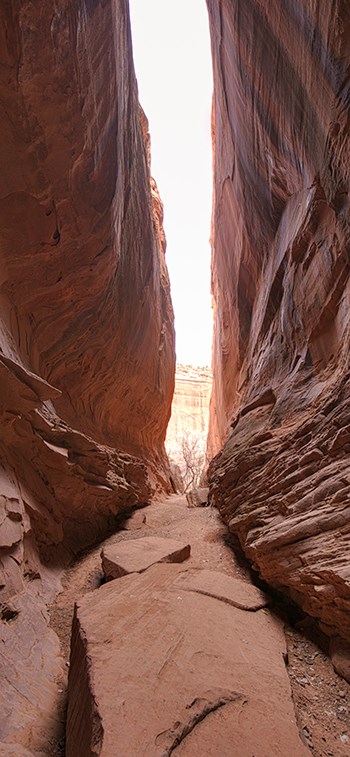 Last updated: November 21, 2022