Cathedral Wash Hike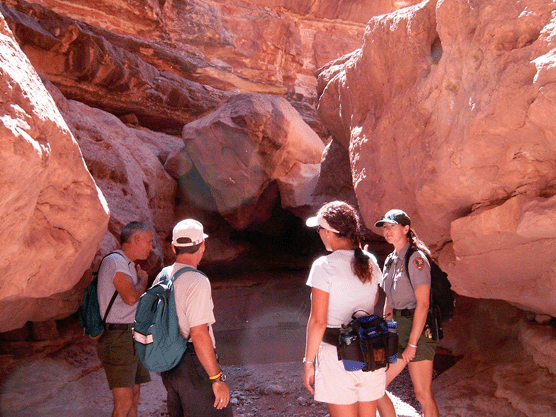 Trail Head: Cathedral Wash is near Lees Ferry, AZ. After you turn off Highway 89A onto the Lees Ferry access road, drive 1.3 miles. The trailhead is at the pull out on your left. You can access both upper and lower Cathedral Wash from this parking area.
Hiking distance: 1.25 miles one way
Hiking time: 1.5 to 3 hours
Skill Level: Moderate. On a scale of 1 (easy) to 5 (arduous), this hike is rated a 3. This hike involves scrambling, traversing ledges and climbing up and down heights of approximately 30 feet.
Conditions: During inclement weather it is not advisable to enter the wash due to the possibility of flash flooding. Remember that desert canyons can draw water from hundreds of surrounding miles, so clear weather here does not necessarily negate the possibility of flooding. Average temperatures are between 20 to 55 degrees F in the winter and 65 to 120 degrees F in the summer.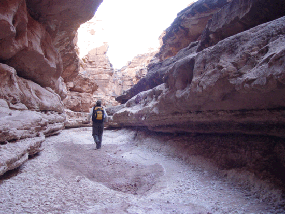 Description: Your hike begins in Glen Canyon NRA. As you descend into the wash, you will travel through the Kaibab Limestone and Toroweap Formations of the Grand Canyon Group. Many interesting formations and fossils may be seen. A wide variety of plants both native and exotic can be found. The wash is teeming with life. You may encounter bighorn sheep, coyote, a variety of birds, insects and reptiles. YES, we do have rattlesnakes. As you reach the bottom of the wash, you will be awe struck by the beauty of the Colorado River, Cathedral Wash rapid and Grand Canyon National Park.
Area Information: A wide variety of information is available at the Lees Ferry Ranger Station and at the Navajo Bridge Interpretive Center.
Suggested hiking items:
WATER: MINIMUM 2 QUARTS 2 QUARTS PER PERSON MANDATORY

Sack lunch/snacks

Sunscreen

Hiking shoes

Camera/extra film

Binoculars

Geology/bird/reptile/plant identification books

First Aid kit

Hat
Special Regulation: No overnight camping or pets are allowed in the Grand Canyon National Park portion of this hike. Collecting specimens of any kind (fossils, plants, reptiles, flowers, rocks, etc.) is prohibited.
For more information on this or other hikes in the Lees Ferry area, contact the Lees Ferry Rangers at: (928) 355-2234.
Last updated: April 8, 2015