Volunteer Open House at Lees Ferry on April 4 2015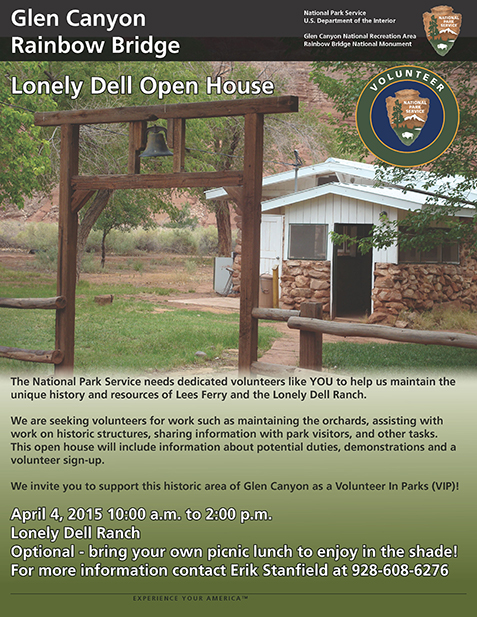 News Release Date:
March 26, 2015
The public is invited to Lonely Dell Ranch at Lees Ferry for a volunteer open house event from 10:00 a.m.until 2:00 p.m. (Arizona MST) on Saturday, April 4, 2015. The park is seeking volunteers to assist with a variety of tasks related to maintaining the historic structures and orchard and sharing information about the history of this unique and special place on the National Register of Historic Places. Those interested in learning more about opportunities to become an official VIP (Volunteer In Parks) are encouraged to stop by for more information and demonstrations of various duties required to maintain the orchard and historic structures. As part of this event, the Weaver Ranch House will be open to showcase historical preservation efforts to date.
Potential volunteers are welcome to bring the family and a picnic lunch to enjoy in the shade. With the anticipated opening of Highway 89 south of Page, Lees Ferry will be a 48 mile drive from town. For more information on the event and how you can contribute to the preservation of Lonely Dell Ranch, please contact Erik Stanfield at 928-608-6276.
Last updated: March 26, 2015