News Release
Ticaboo Investment Holdings, LLC, Awarded Hite Concessioner Contract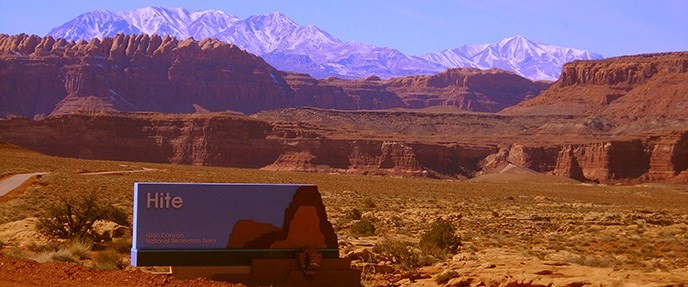 News Release Date:
November 7, 2018
Contact: Mary Plumb, 928-608-6202
HITE, Utah – The National Park Service (NPS) selected Ticaboo Investment Holdings, LLC., to provide fuel, retail, RV sites, campground services and expanded land-based recreation opportunities in the Hite District of Glen Canyon National Recreation Area. The new concession will do business as Lake Powell Adventures.
"We are excited to work with our new partner in providing new and updated visitor services and access in the Orange Cliffs and Muley Point sections of Glen Canyon National Recreation Area," said Glen Canyon National Recreation Area Superintendent William Shott. "There is clearly a desire for different types of land based recreation and with Ticaboo Investment Holdings, we can reasonably meet this desire."
The NPS issued a Request for Expressions of Interest (RFEI) in May with the intent to issue a non-competitive, three-year temporary contract to operate services at Hite. Ticaboo Investment Holdings responded to the RFEI as an interested entity. The Acting Regional Director determined Ticaboo Investment Holdings to be a qualified entity. The temporary contract will expire on October 31, 2021.
Visitor services at Hite have been provided for many years by Aramark Sports and Entertainment Services, LLC, (Aramark) doing business as Lake Powell Resorts and Marina as part of its concession contract at Bullfrog and Halls Crossing. Through mutual agreement, Aramark's contract was modified to discontinue services at Hite only, opening the opportunity for this temporary contract with expanded land-based services.
Last updated: November 7, 2018