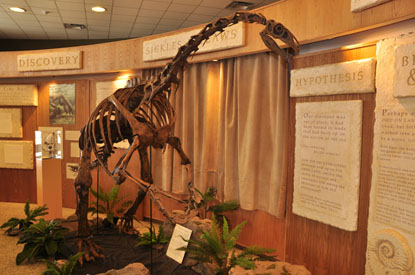 News Release Date:
March 21, 2011
Glen Canyon National Recreation Area and the Bureau of Reclamation, as well as community partners, are hosting the Museum of Northern Arizona's Therizinosaur: Mystery of the Sickle-Claw Dinosaur exhibit at Carl Hayden Visitor Center in Page, AZ. The exhibit was produced by the Museum of Northern Arizona and designed by paleontologist David Gillette and artist Victor Leshyk. The focus of the exhibit is a free-standing skeleton of Nothronynchus graffami, a sickle-clawed and feathered dinosaur that was discovered in 2000 in southern Utah.
This 93-million year old plant-eater stood 13 feet tall and weighed about 1 ton. The nickname "sickle-claw dinosaur" stems from the creature's unique claws that measure 8 inches in length. The dinosaur likely used these claws to probe for termites as well as defend itself against some of the ferocious meat eaters it encountered on land. During the late Cretaceous Period when this dinosaur roamed the earth, Glen Canyon and the surrounding area was covered by the Cretaceous Western Interior Seaway. "The mystery" of this amazing land dinosaur is that the remains were found buried deep in a layer of Tropic Shale, 60 miles from the seashore. You can learn more about how a land-living dinosaur ended up in an ancient seaway at the exhibit.
The exhibit also showcases an ingenious robotic plesiosaur, created by artists Brian and Eric Gold. Plesiosaurs were ambush predators that terrorized the Cretaceous seas. The robotic plesiosaur demonstrates the swift swimming movement of these aquatic reptiles. Real plesiosaur bones and teeth were excavated in Glen Canyon NRA from the same Tropic Shale rock layer as the therizinosaur. The jaw and paddle bones of a plesiosaur are on display.
The exhibit was installed on March 4th at the Carl Hayden Visitor Center. The public grand opening for the exhibit will be on April 13th, 2011. Doors will open at 6:30 p.m. and there will be a presentation by Dave Gillette at 7:00pm. Refreshments will be served from 6:30-7:00 p.m. A book signing will follow the lecture.
Come see the newest and strangest dinosaur in North America in this stunning new exhibit! The visitor center's current operating hours are 8:00 am to 5:00 pm seven days a week. There is no fee to enter the building. Teachers interested in scheduling guided tours should contact Joan Mayer at 928-608-6353. For more information, please visit www.nps.gov/glca/forteachers/therizinosaur.htm