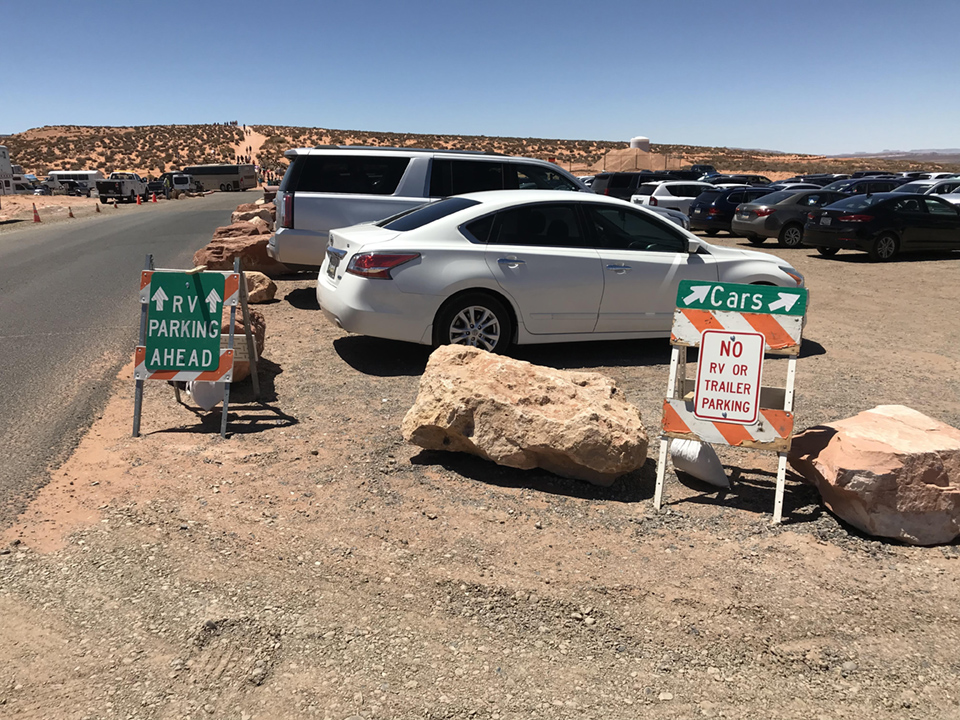 News Release Date:
June 21, 2018
Contact: Mary Plumb, Glen Canyon National Recreation Area, 928-608-6202
Contact: Det. Terry TerEick, Page Police Department, 928-645-4108
The City of Page and the National Park Service are working together to address congestion and safety concerns at the Horseshoe Bend Overlook parking lot. Effective immediately, temporary parking and safety restrictions have been implemented in the parking lot by the Page Police Department.  
Over the last several years, visitation to Horseshoe Bend Overlook has increased dramatically.  Thousands of visitors from around the world visit the attraction daily. Although the parking lot has been expanded several times, vehicle congestion still remains a safety issue.  Heat-related medical issues continue to be a major concern as well.  To address these issues, temporary parking and safety restrictions are in place until further notice.
Tour buses with a carrying capacity of more than 20 passengers will not be allowed to park on site. All buses this size will be required to unload at the designated area near the trail head, leave the site and return at a time agreed upon with their passengers to pick them up. 
All visitors must adhere to the instructions of the parking control employee.
Parking is prohibited along US Highway 89. New signs and barriers have been placed along the highway and violators will be cited.
If the parking lot is full, visitors will need to return at another time. The best time to find parking is prior to 10 a.m. or between 4 and 6 p.m. On holiday weekends, the parking lot may fill up sooner.
We ask that consideration be given to the limited parking and that visitors not linger, camp, or picnic in the parking lot at Horseshoe Bend. Overnight camping is not allowed in the Horseshoe Bend parking lot. Visitors are invited to enjoy city parks in Page and day use areas at Glen Canyon National Recreation Area. 
The half-mile hike from the parking lot to the rim provides little relief from the sun. Visitors should bring water on the hike, wear comfortable clothing and seek immediate relief at the first signs of heat related illness (heavy sweating, confusion, dizziness, weak rapid pulse, fainting, fatigue, headache, muscle or abdominal cramps, nausea vomiting or diarrhea). In the event of an emergency call 911.
The ground becomes very hot in the late morning and afternoon, which could burn feet on visitors and their pets. Visitors should wear appropriate shoes (no sandals) and should not take pets on the hike if the ground is too hot.  Pets must not be left unattended in vehicles.
A parking control employee will be posted in the parking lot daily during the busiest hours. The Page Police Department will continue to assist with parking control as needed. The Page Public Safety Mobile Command Center has been placed at Horseshoe Bend and will be utilized by city employees and public safety personnel.
Horseshoe Bend is located within the Glen Canyon National Recreation Area and is managed by the National Park Service.  The parking lot for Horseshoe Bend is located in and managed by the City of Page.  Improvements are currently underway at the site, including a new American Disabilities Act trail and viewing area, shade structures, a larger parking lot, and visitor contact station. The City of Page plans to start construction of the new parking lot in November 2018 with a projected completion date of March 2019.  When the new parking area is complete buses will again be allowed to park at Horseshoe Bend. Both the City of Page and the National Park Service wish all visitors a safe and enjoyable visit to Horseshoe Bend and thank you for your cooperation while improvements are being constructed.