Date:
June 14, 2013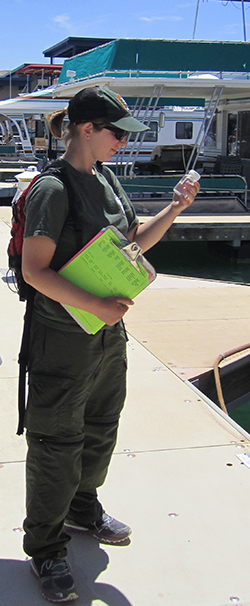 The National Park Service (NPS), in collaboration with other federal, state, and local  agencies as well as partners, conducted an intensive four-day dive operation from June 10-June 14 to assess the extent of quagga mussels in lower Lake Powell and to remove all existing mussels. A total of 36 divers and 73 support staff destroyed 235 mussels.
Divers located mussels on moored boats, docks, and breakwaters dispersed throughout both marinas, but did not find any large colonies of mussels. The mussels varied from the size of a pea to the size of a quarter, which suggests a range of different ages. The vast majority of mussels found were individuals. There were three instances of small groups of two to three mussels at Wahweap Marina. Mussel infestations typically consist of thousands of individuals in close proximity. With no current indications of veligers (larvae), and with the removal of the adult mussels, park officials remain optimistic that the focused effort eliminated the possibility of a reproducing population.
"We really appreciate everyone's contributions to this operation. Fellow agencies, local businesses, and our visitors have all been supportive of the removal efforts," said Superintendent Todd Brindle. "We could not have done this safely and efficiently without the cooperation of boaters. Everyone was patient with short delays and respectful of divers in the water."
Boat certifications and inspections will continue as well as underwater surveys and removal. The park will continue intense monitoring efforts with periodic dive operations by park staff throughout the year. Although inspections are currently focused on the southern end of the lake, other marinas and docks will be assessed in the future.
Participating agencies and partners included the following:
Bureau of Reclamation




US Coast Guard Auxiliary




US Fish and Wildlife Service




Arizona Game and Fish Department




Utah Division of Wildlife Resources




Utah Highway Patrol




Antelope Point Marina




Lake Powell Resorts and Marinas (Aramark)




Big Water Fire & Rescue




Coconino County Sheriff's Office



Grand Staircase Escalante Partners