News Release
Enjoy a Safe Summer at Glen Canyon National Recreation Area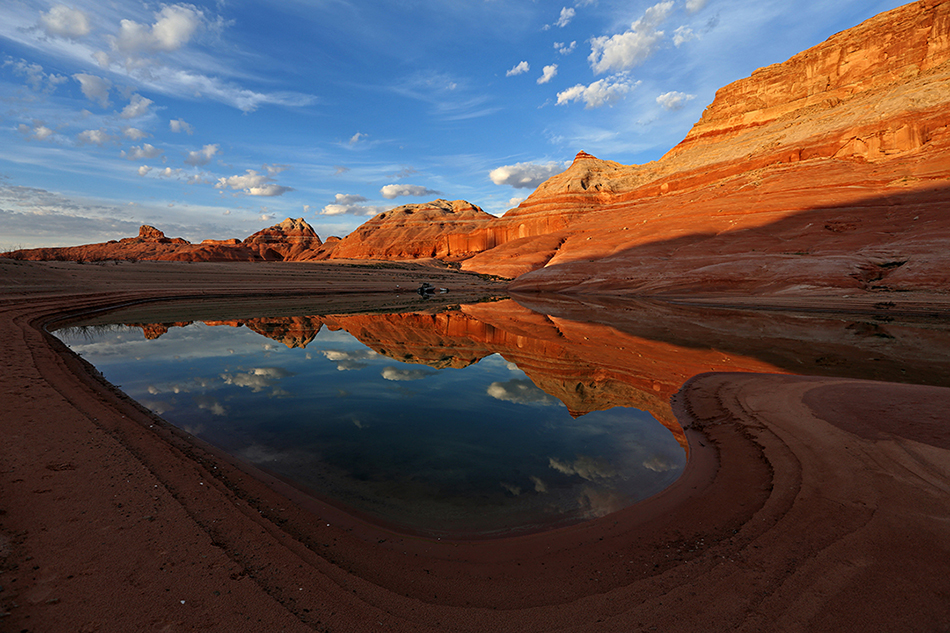 News Release Date:
June 30, 2017 The staff of Glen Canyon National Recreation Area and Rainbow Bridge National Monument want all visitors to have an enjoyable and safe visit this summer, and especially during this extended holiday weekend.  
According to William Shott, Superintendent of Glen Canyon National Recreation Area and Rainbow Bridge National Monument, "We welcome everyone who visits these spectacular parks, which provide outstanding opportunities for adventure. Please practice safe boating and outdoor recreation in whatever form you enjoy, while respecting each other and preserving the resources for future generations."   
Ranger-led programs are offered at several locations. The Carl Hayden Visitor Center has Junior Ranger Programs daily. Enjoy a guided hike at Horseshoe Bend daily (8:30 to 11:00 a.m.). The Hanging Garden Guided Hike is 
Monday
 through 
Thursday
, (
6:30 to 7:30 p.m.
), and an Evening Program is offered at the Wahweap Campground Amphitheater every 
Friday
 and 
Saturday
 (8 to 9 p.m.) On 
July 4
, U.S. Coast Guard and NPS will be available at the Halls Crossing Marina to offer courtesy vessel inspections for required and recommended safety equipment. Uplake, on 
July 1 and 2
, interpretive rangers will be on-site at the Defiance House giving talks between 
10 a.m. and 2 p.m.
(Defiance House is located three miles up the middle fork of Forgotten Canyon and is one of the best-preserved Ancestral Puebloan dwellings in the park.)  On 
Sunday, July 2
 (at 
9 p.m.
), an astronomy program will be provided at the Escalante Interagency Visitor Center parking lot. On 
July 4
 there will be fireworks in Bullfrog. All outdoor programs are weather permitting.  
"Weather permitting" also applies to people during these hot summer months. Extremely hot weather can cause sickness or even death. Follow safety guidelines to avoid dehydration and heat stress. Know and follow other guidelines for safety, including desert safety, lifejackets, and boating safety. Life threatening dangers to avoid include swimming at marinas, flash floods, cliff jumping and carbon monoxide. More information is available here: 
https://www.nps.gov/glca/planyourvisit/safety.htm
,        
The summer heat has also added to the need for current fire restrictions. Open fire of any kind is currently prohibited, except campfires and charcoal fires within agency approved fire pits and grills. Campfires are also permitted below the high water mark of the lake in areas devoid of vegetation. Smoking is prohibited, except in an enclosed vehicle or a developed recreation site, or while stopped in an area at least six feet in diameter that is barren or cleared of all flammable material down to mineral soil. Fireworks or other pyrotechnic devices are prohibited at all times on all federal public lands.  
Visitors to Glen Canyon use a variety of watercraft on Lake Powell, including houseboats, powerboats, personal watercraft ("jet skis"), kayaks and paddleboards. Because quagga mussels have been confirmed both above and below the dam, all boaters and fishermen are reminded to clean, drain, and dry their boats and all equipment after contact with these waters. Utah and Arizona state laws require that boat owners decontaminate their vessels and conveyances prior to transport from infested waters. Specific information on state laws for Utah can be found at 
www.wildlife.utah.gov/mussels
 or for Arizona at 
www.azgfd.gov/ais
 .  
Those who enjoy non-motorized boating will want to check out wakeless zones recently established in three side canyons on Lake Powell: Antelope, Labyrinth 
and Lost Eden Canyons. Maintaining wakeless speed throughout these narrow canyons increases enjoyment by kayakers, while preventing collisions, swamping or capsizing by other watercraft.  
For those camping within one quarter-mile of Lake Powell's shoreline, "Lake Powell Pure" practices include possessing and utilizing a human sanitation device (portable toilet) that does not use plastic bags to contain the waste. Digging a cat hole is not allowed because the area could be covered with water later, resulting in your human waste floating in the lake. A portable toilet must be used and don't dump your tank in the lake. Other illegal activities include vandalism, graffiti, littering, careless operation of a vessel, and boating under the influence of alcohol and/or drugs. Under the Powell Watch Program, if you see something, say something. Text reports of violations or concerns to 928-614-0820. (Do not call; text only. This is not an emergency number. In an emergency, call 911 or use Marine Band 16 to hail National Park Service.)  
Last updated: June 30, 2017