Rainbow Bridge Actually Moves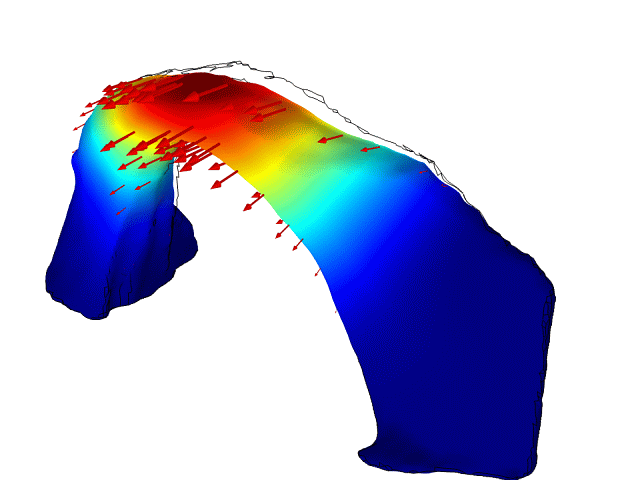 News Release Date:
October 21, 2016
Contact: Christiana Admiral, 928-608-6351
Jeffrey Moore, assistant professor of geology and geophysics at the University of Utah, will speak about the surprisingly dynamic structure of Rainbow Bridge on Wednesday, Nov. 2 at 6:30 p.m. at Glen Canyon National Recreation Area headquarters, 691 Scenic View Drive. Refreshments will be provided by the Glen Canyon Natural History Association.
The park commissioned Moore to conduct a study in March of 2015 of Rainbow Bridge to evaluate the potential impact of human-caused vibrations —such as aircraft flying overhead —on the bridge's stability.
With permission from Native American tribes that have cultural ties with the world-famous natural feature, Moore placed two seismic sensors on the bridge itself and two in a nearby canyon for comparison. The team captured eight major patterns of vibration –some back and forth, some up and down, and some twisting. Moore's study illustrates subtle movements and twisting in the bridge that are not visible to the human eye.
Some of these patterns, or modes, were stimulated in part by human-caused activities, such as aircraft, in addition to the natural environment. One vibrational mode, for instance, resonated at about the same frequency as the waves of Lake Powell. Vibrations from those waves travel through the rock and are felt in Rainbow Bridge. Moore's equipment was so sensitive that it detected vibrations linked to earthquakes as far away as Oklahoma.
"Rainbow Bridge is constantly in subtle motion," Moore said. "It's a rare and delicate structure, and it's worth trying to understand what forces could play a role in accelerating the demise of such exceptional natural features."
In managing Rainbow Bridge, the park consults with associated Native American tribes. Some tribes are concerned about the effect on the bridge of vibrations caused by aircraft flying near or above it.
The tribes' traditional ecological knowledge, based on generations of cultural ties to Rainbow Bridge, prompted the park to commission the University of Utah study. "The study illustrates that Rainbow Bridge is more than an inanimate object, but something that moves and vibrates, and is responsive to its surroundings," said Billy Shott, superintendent of both Glen Canyon National Recreation Area and Rainbow Bridge National Monument. "This is an excellent example of how the tribes' knowledge of this place is helping us manage Rainbow Bridge better for everyone."
About Jeffrey Moore
Moore is an Arizona native with deep roots in the Southwest. He holds a PhD from the University of California, Berkeley and has studied rock slope instability and hazard assessment at the Swiss Federal Institute of Technology in Zurich. Moore is an assistant professor of geology and geophysics at the University of Utah. His research focuses on rock slope failure, monitoring for early warning of geohazards, and the hazards and impacts of very large, infrequent landslides.
About Rainbow Bridge
Located in Southern Utah, Rainbow Bridge is one of the world's largest natural bridges. Rainbow Bridge National Monument, designated by presidential proclamation in 1910, is managed by the National Park Service to preserve the breathtaking geologic feature carved out of Navajo Sandstone. About 80,000 visitors a year make the trip by boat on Lake Powell to marvel at Rainbow Bridge.
Last updated: October 21, 2016