Protect Feet and Paws from Sharp Quagga Mussel Shells on Lake Powell Shorelines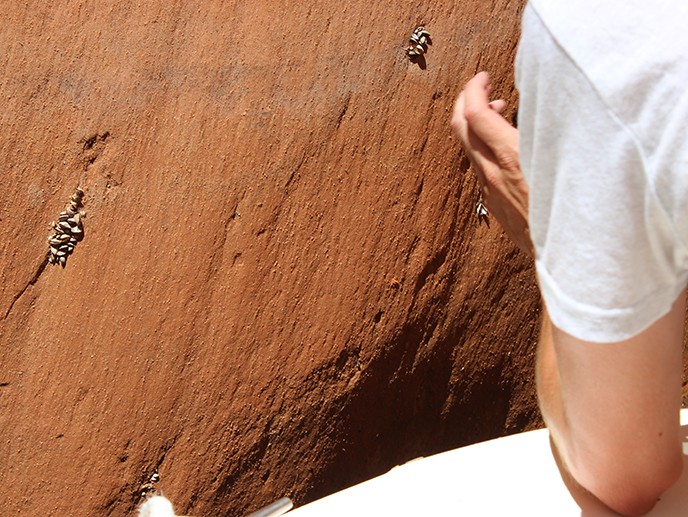 News Release Date:
March 3, 2016
Contact: Cynthia Sequanna, 928-608-6356
Seasonally low lake levels have exposed quagga mussels on Lake Powell's rocky shorelines. Eventually, quagga mussel shells will also wash up on beaches. Quagga mussel shells are very sharp and can cut through skin, clothing and pet paws. Wearing water shoes and preventing pets from walking in quagga infested areas are good recommendations for Lake Powell shorelines. Pets must be restrained on a leash not exceeding six feet in length as required by regulation.
Quagga mussels were first detected in Lake Powell in 2012. The infestation is thickest toward the southern area of the lake, where seasonally low water levels are now exposing mussel encrusted shoreline.
Lake Powell boaters are asked continue efforts to help keepmussels from moving from Lake Powell to other lakes and rivers. Utah and Arizona state laws require boat operators to clean, drain, and dry when leaving Lake Powell using self-decontamination procedures. Additional steps are required to launch on other waters without a significant drying period or after more than five days on Lake Powell. Regulations vary depending on the state, so all boaters should review the regulations of any state they will enter with their watercraft after being at Lake Powell. Utah and Arizona regulations can be found at: http://wildlife.utah.gov/invasive-mussels.html and https://www.azgfd.com/fishing/invasivespecies. Pet regulations can be found at: http://www.ecfr.gov/cgi-bin/text-idx?rgn=div8&node=36:1.0.1.1.2.0.1.11, and https://www.nps.gov/glca/learn/management/lawsandpolicies.htm
Last updated: March 4, 2016