Agencies and Boaters Step Up to Prevent the Spread of Quagga Mussels from Lake Powell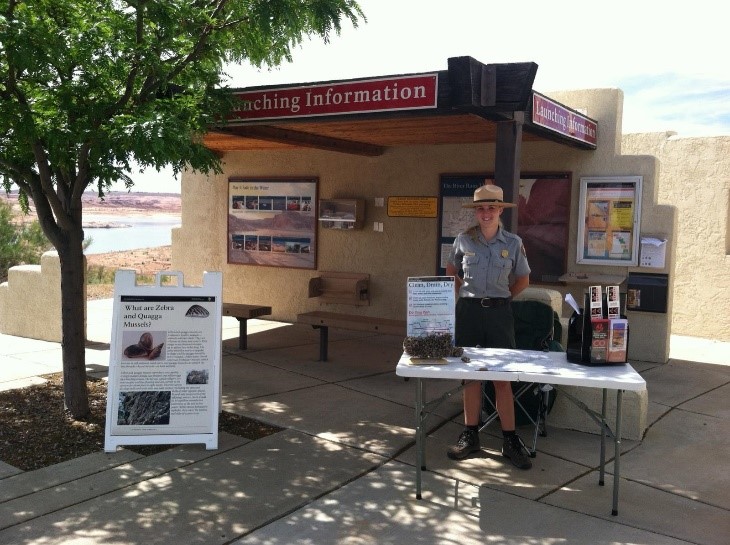 News Release Date:
August 3, 2016
Contact: Christiana Admiral, 928-608-6351
Agencies and Lake Powell boaters are doing their part to prevent the spread of quagga mussels, an aquatic invasive species (AIS), from Lake Powell.
After detecting quagga mussels in Lake Powell in 2012, Glen Canyon National Recreation Area, Utah Department of Wildlife Resources (UDWR) and Arizona Game and Fish Department (AZGFD) have joined forces to keep Lake Powell boaters from inadvertently transporting quagga mussels to other water bodies throughout the west.
 "Currently, Lake Powell is the only lake in Utah infested with quagga mussels, and we aim to keep it that way," said Glen Canyon National Recreation Area Superintendent Billy Shott. "Containing the problem at Lake Powell benefits lakes and rivers throughout the West." 
In addition to ecological impacts, quagga mussels have devastating financial impacts on marina infrastructure and boats. Without proper decontamination, quagga mussels can clog internal systems on boats resulting in engine failure and boat fires.
This year NPS and agency partners contacted approximately 200,000 boaters with a "clean, drain and dry your boat" message. In addition to providing guidance on state laws to boaters leaving the area, agency staff perform hot wash decontaminations of boats headed to other waters. A new education campaign enhances personal contacts at marinas with posters, radio announcements, Junior Ranger activity worksheets, interactive displays at marinas, and representation at community events.
Containing quagga mussels within Lake Powell and the Colorado River is no small undertaking. In the 2016 boating season, 23 seasonal AIS employees from UDWR joined 19 seasonal NPS AIS employees at multiple marinas throughout Lake Powell and at Lees Ferry.
The quagga mussel containment effort at Lake Powell is so effective, that it is looked to as a model program for AIS containment throughout the West. "Thank you to Lake Powell boaters for doing your part to clean, drain and dry your boat when leaving Lake Powell," said Glen Canyon National Recreation Area AIS Coordinator Colleen Allen. "Your diligence is not only protecting your personal property, but protecting the waters where you live and play."
The AIS team at Lake Powell is also the first line of defense against the introduction of new AIS, such as Eurasian Watermilfoil, New Zealand Mudsnail and Largemouth bass disease. "Containment is prevention, and prevention is containment," Allen said. "Our goal is to educate boaters to stop the spread of AIS whether you are coming or going from a body of water."
Last updated: August 3, 2016