Lake Powell Resorts and Marinas Partner with NPS to Take Students to Rainbow Bridge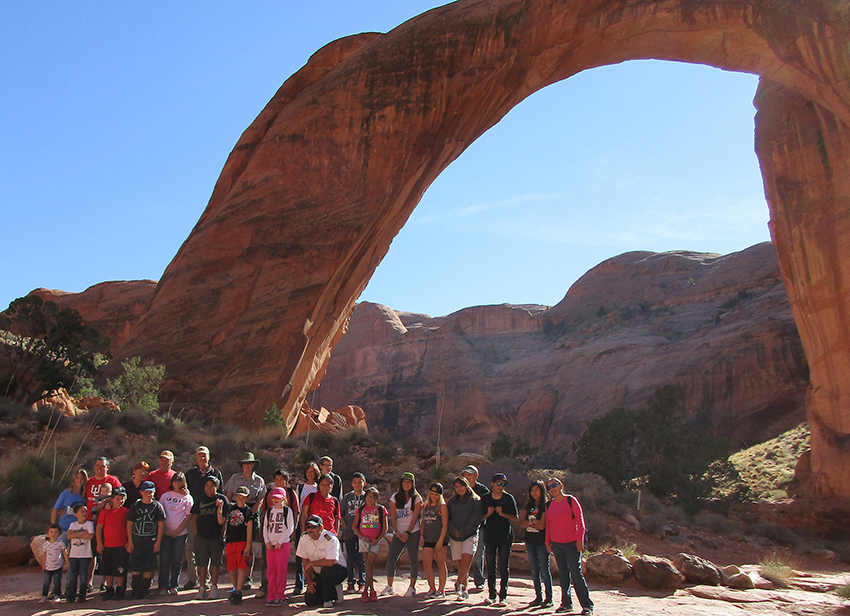 News Release Date:
November 15, 2016
Contact: Katie Wood, (928)614-4220
Contact: Bridger Christiansen, (928)645-1085
Sixteen students from the Lake Powell School in Bullfrog, Utah, visited Rainbow Bridge National Monument on Tuesday, Nov. 8, thanks to the generosity and support of Lake Powell Resorts and Marinas. 
The natural stone bridge is one of the largest in the world, but is difficult to access in the remote canyons at the base of Navajo Mountain. Most visitors reach the site by boat on Lake Powell, but for those who don't have access to a boat, this unique landmark may seem out of reach. The National Park Service and Lake Powell Resorts and Marinas teamed up to make the journey possible for students from the Kane County-based school in Bullfrog last week.  
 "The plans for partnership between the school and the NPS were just elevated to a whole new level when Lake Powell Resorts and Marinas offered their support," said Billy Shott, Superintendent. The park concessionaire provided the trip free of charge for the students and staff at the school in support of improved community and partner relations between all entities in the small uplake community.
On the morning of the boat ride, students met the tour boat, the Nonne-Zoshi (roughly translated to "Rainbow Made of Stone"), at the Bullfrog Marina, and took the two hour boat ride to Rainbow Bridge. Students then hiked a mile from the docks to see Rainbow Bridge and listen to park rangers share information about the cultural and scientific significance of the massive stone arch. Students also enjoyed box lunches, and gift bags provided by Lake Powell Resorts and Marinas with fun, educational souvenirs from their trip.
"We were simply thrilled to be a part of this unique educational and cultural opportunity," said Bridger Christiansen, Director of Compliance for Lake Powell Resorts and Marinas. "Through our strong partnership with the National Park Service and the Lake Powell School, we all collaborated to deliver a special experience that enriched and nourished lives."
In the weeks prior to the field trip Interpretive Ranger, Valerie Reynolds
,
 visited the students of Lake Powell School in their classroom to teach them about Rainbow Bridge, water safety, and the National Park System. Students also completed Junior Ranger activities to earn their badges on the field trip.
The Lake Powell School trip was one piece of a larger National Park Service effort to connect local students with Rainbow Bridge, a landform of significant cultural, historical, and spiritual significance to many peoples living in the area. The efforts to include the Lake Powell School would not have been possible without the strong support and partnership from Lake Powell Resorts and Marinas. 
To learn more about Rainbow Bridge National Monument, visit 
www.nps.gov/rabr
 and for more information about boat tours and other services on Lake Powell visit 
www.lakepowell.com
.   
Last updated: November 15, 2016