News Release
New Exhibits to be Unveiled at Escalante VC March 22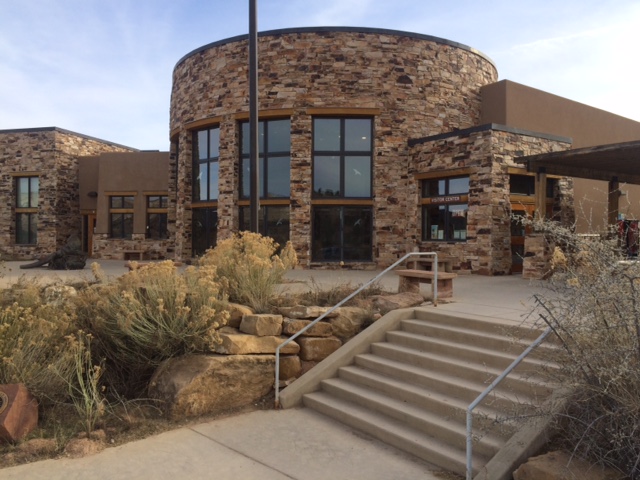 News Release Date:
March 14, 2018
Contact: Christiana Admiral, 928-608-6351
Contact: Larry Crutchfield, 435-691-4310
Contact: Nicholas Glidden, 435-865-3747
More than one million people who visit the public lands surrounding Escalante, Utah every year will benefit from new outdoor exhibits and a companion trip planning mobile application (app) which will be unveiled at the Escalante Interagency Visitor Center March 22.  
The exhibit and app were designed to help visitors have safer adventures in the area and forge deeper connections with their public lands. The Escalante Interagency Visitor Center will host the unveiling celebration for the new outdoor exhibits and app at the visitor center on Thursday, at 1 p.m. The public and media are invited to attend.  
"The new outdoor exhibits provide visitors to the Escalante area with much needed 24/7 trip planning support," said Allysia Angus, Landscape Architect for Grand Staircase- Escalante National Monument. "Trip planning is the number one service people request at our visitor center before journeying into the ruggedly beautiful public lands surrounding Escalante."  
The event will include demonstrations of the app, Leave No Trace education activities, the opportunity to meet with community members and experts who contributed to the exhibits and app, and refreshments provided by the Glen Canyon Natural History Association.  
A member of the Kaibab Paiute tribe, local sheriffs, area guides, a National Weather Service representative, the Scenic Byway 12 coordinator, agency rangers and other local residents are the faces and voices of both the exhibit and app and will be recognized for their contributions at the unveiling celebration.  
"An array of folks with deep connections to the Escalante region contributed their wisdom and experience to the design of the exhibits and app." Angus said. "They are the faces and voices of these products and we are grateful for their help informing visitors from around the world how to explore and experience this special place in a safe, respectful and enjoyable way."  
The new exhibits focus on trip planning, safety and preparedness, and Leave No Trace principles. The mobile app features weather and flash flooding alerts and has been touted by the National Weather Service as a trendsetting approach for providing visitors with real-time weather data. The app also features interactive and downloadable maps, road conditions, and a decision tree planning tool.   
"This project is an attempt to provide visitors with information to allow them to make good decisions - both for safely exploring and for being good stewards of this area," Angus said. "Ultimately, we hope to see fewer calls for emergency assistance in the Escalante area, and improved resource conditions in the backcountry as a result of the exhibits."  
Each year the Escalante Interagency Visitor Center serves over 70,000 visitors to the Escalante region of Grand Staircase-Escalante National Monument, Dixie National Forest and Glen Canyon National Recreation Area. The most commonly requested information at the visitor center includes trip planning support for day trips, as well as overnight adventures into the backcountry.    
More information: 
Glen Canyon National Recreation Area
 ; 
Grand Staircase-Escalante National Monument
 ; 
Dixie National Forest
Who:  Bureau of Land Management, United States Forest Service and National Park Service officials  
What:  Unveiling of new outdoor exhibit and app at the Escalante Interagency Visitor Center   
When:  Thursday, March 22, 2018
             1:00 p.m. MT  
Where:  Escalante Interagency Visitor Center
    755 West Main Street
    Escalante, UT  
Last updated: March 14, 2018