National Park Service Celebrates 98th Birthday
Date:
August 22, 2014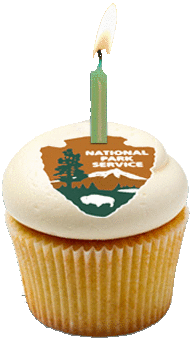 Page, Arizona–Glen Canyon National Recreation Area will celebrate the 98th birthday of the National Park Service by waiving its normal entrance fee of $15 and providing a free ranger-led hike to the Hanging Gardens at 6:00 p.m. on Monday, August 25. More information about the hike can be found at www.nps.gov/glca.
"We hope that everyone will come out and enjoy the fee-free day to celebrate this birthday ," said Todd Brindle, Superintendent of Glen Canyon National Recreation Area and Rainbow Bridge National Monument. "National parks belong to all Americans and offer something for everyone. So come visit Glen Canyon and Rainbow Bridge to enjoy our diverse recreation opportunities and the stunning resources we protect."
In 1872, Yellowstone National Park was established as the world's first national park. There were 37 national parks in the United States when President Woodrow Wilson signed legislation to create the National Park Service on Aug. 25, 1916.
Today, there are 401 national park units throughout the country and each one tells an important part of the American story. Some commemorate notable people and achievements, others conserve magnificent landscapes and natural wonders, and all provide a place to have fun and learn. Plan your next visit to a park near you at www.nps.gov.
Glen Canyon National Recreation Area was established in 1972 toprovide for public enjoyment of land- and water-based recreational opportunities and to protect scenic, scientific, natural and cultural resources. Last year, more than 2 million park visitors enjoyed Glen Canyon National Recreation Area and Rainbow Bridge National Monument, adding $118 million to the local economy and supporting 1473 area jobs. 
The mission of the National Park Service also extends beyond park boundaries. Community partnerships help preserve local history and create close-to-home recreational opportunities. To see what is happening in Arizona and Utah national parks, go to www.nps.gov/AZ or www.nps.gov/UT.
Last updated: February 24, 2015