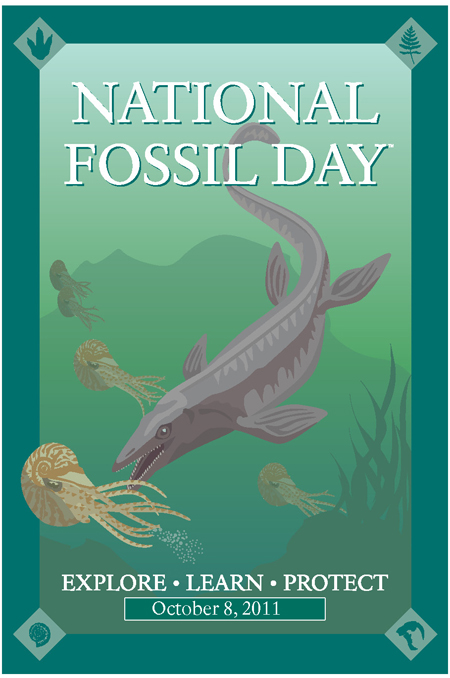 News Release Date:
September 28, 2011
The National Park Service and the American Geological Institute are once again partnering nationally to host the second annual National Fossil Day on October 13, 2011 as part of Earth Science Week. Locally, Glen Canyon National Recreation Area will celebrate National Fossil Day with public programs on October 8, 2011. National Fossil Day is a celebration organized to promote public awareness and stewardship of fossils, as well as to foster a greater appreciation of their scientific and educational value.
Visitors are invited to participate in several fun activities led by rangers at the Carl Hayden Visitor Center on Saturday, October 8 from 12:00 to 3:00 P.M. Kids and adults can make dinosaur clay models, dig for dinosaur bones, earn a Jr. Paleontology badge, attend a special dinosaur painting watercolor workshop for beginners, and meet the park's paleontologist for a talk about the center's feathered therizinosaur exhibit.
Fossils preserved in the rocks of Glen Canyon NRA are evidence of the life and changes that occurred during the Mesozoic Era (65 - 200 million years ago). The National Park Service preserves and protects these resources for future generations. Dinosaur tracks can be viewed at the Carl Hayden Visitor Center and the Wahweap District Ranger Office.
Please call 928-628-6404 or visit www.nps.gov/glca/planyourvisit/rangerpresentations.htm for more information about Glen Canyon National Recreation Area. For additional information on the fossils at Glen Canyon NRA, please visit www.nps.gov/glca/naturescience/mesozoicfossils.htm.
For information on the Junior Paleontologist Program and additional educational resources related to National Fossil Day, please visit www.nature.nps.gov/geology/nationalfossilday/overview.cfm.