News Release
National Fossil Day 2017 at Glen Canyon
Date:
September 27, 2017
Contact:
Mary Plumb
, 928-608-6202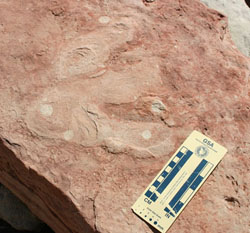 Everyone who loves fossils is invited to join Glen Canyon National Recreation Area's celebration of National Fossil Day™ on Wednesday, October 11. This free event is being held at the Carl Hayden Visitor Center from 12 to 5 p.m. Kids can earn their Junior Ranger Paleontology Badge, dig for fossils and decorate a Jurassic landscape. The Carl Hayden Visitor Center also has a permanent dinosaur track exhibit.
According to Superintendent William Shott, "Glen Canyon National Recreation Area has many canyons with exposed rock layers, revealing fossils, traces of past life forms and chapters of the earth's history. The National Park Service preserves and protects these resources for future generations, so we love engaging directly with kids and their families at special events like this."
National Fossil Day is a celebration organized to promote public awareness and stewardship of fossils, as well as to foster a greater appreciation of their scientific and educational value.
More information about the Junior Paleontologist Program and additional educational resources is available at this link: NPS National Fossil Day.
Last updated: September 27, 2017