Lakeshore Drive Closure Begins Jan 11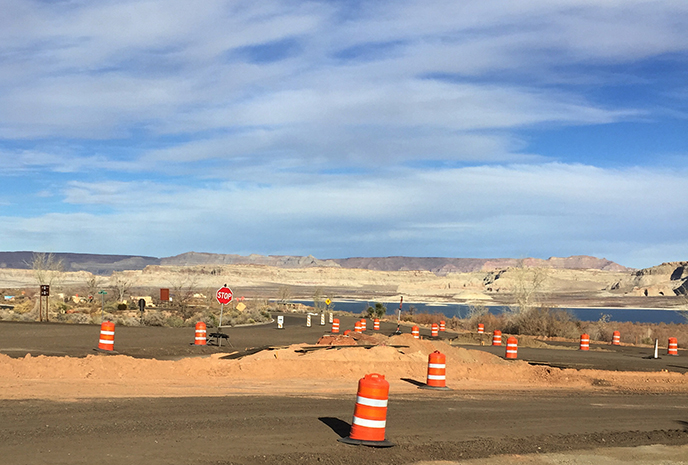 News Release Date:
January 8, 2016
Lakeshore Drive will officially close on Monday, January 11 for the next phase of a Federal Highway Administration project in progress. The road will be closed from the south entrance on Highway 89 to the four-way intersection near the Wahweap Ranger Station. All traffic will be routed through the north entrance, although access to launch ramps, businesses, and other services will still be available.
Boaters are encouraged to launch at Stateline launch ramp as a way to minimize inconvenience and delays caused by the construction. The park would also like to assist large vessels who are unable to launch and retrieve from Stateline to transport vessels through the four-way intersection with minimal delay. Those transporting vessels larger than 30 feet in length or 8 feet in width are encouraged to call (928) 608-6200 for more information on how to transport through the construction at the four-way intersection more efficiently.
The rehabilitation project will replace all road surfaces, culverts, guardrails and signage along the length of Lakeshore Drive. The four-way intersection will be widened and asphalt will be replaced with concrete to accommodate large and heavy houseboats being trailered to and from the Wahweap main launch ramp. Until work is completed in the spring, updates can be found at https://www.nps.gov/glca/learn/news/roadconstruction.htm.
Last updated: January 8, 2016