News Release
Horseshoe Bend Rim Railing Construction Beginning November 6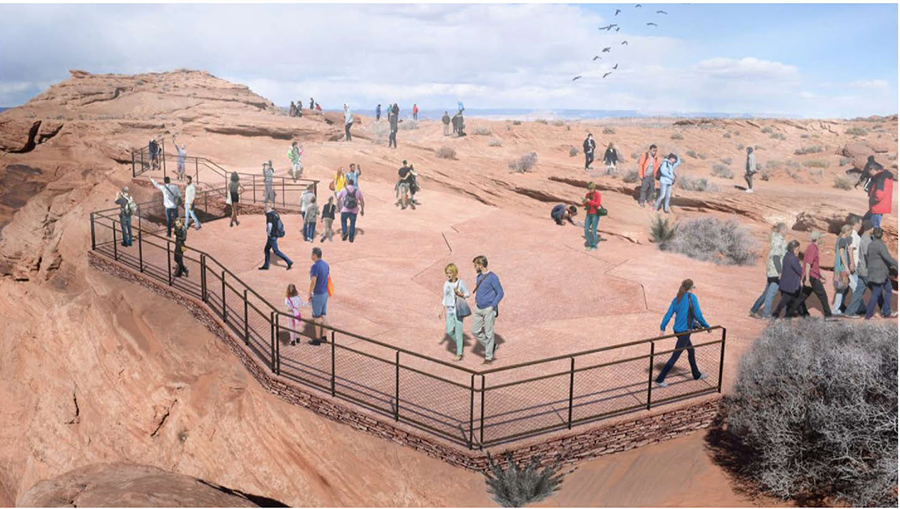 News Release Date:
October 31, 2017
Contact: Mary Plumb, 928-608-6202
Improvements at the rim of the Horseshoe Bend Overlook in Glen Canyon National Recreation Area will be starting November 6. Visitors are advised that while contractors are installing rim safety railing, half of the rim viewing area will be closed to visitor access until construction has been completed. Additional improvements include a trail to the rim that meets Architectural Barriers Act (ABA) standards for accessibility and blends with the natural environment, and two shade structures with benches along the new trail. One of the shade structures is being installed by the park and the other shade structure is being installed by the City of Page. A small, ABA accessible viewing area with safety railing will be available at the overlook rim.
According to Superintendent William Shott, "Glen Canyon National Recreation Area's Horseshoe Bend Overlook has become an iconic destination area for tourists from all over the world, and visitation has increased significantly. We're excited to work alongside our partners, the City of Page, to address the needed improvements."
The completion dates for this phase of improvements are still to be determined and may be affected by weather. Construction is expected to take at least 90 days. The construction will not affect parking.
Construction of a viewing platform and rim railing will greatly increase visitor safety at the rim for families while also meeting accessibility standards. The rim railing will encompass a viewing area at the terminus of the trail. Though not recommended, visitors may always choose to take in the iconic view without the security of railing simply by walking along the canyon rim. The park thanks the public for their patience while these improvements in visitor services are completed.  
Construction is being funded by visitor entrance fees to Glen Canyon National Recreation Area, the City of Page, Arizona Parks and Trails, Coconino County, and Lake Powell Resorts and Marinas Guest Donation Program in collaboration with the Glen Canyon Natural History Association.   
Last updated: November 1, 2017