Help Glen Canyon Look its Birthday Best in 2016 and Beyond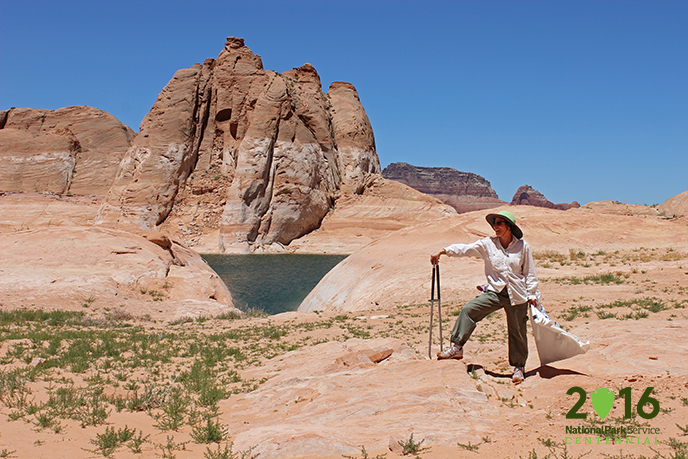 News Release Date:
March 4, 2016
Contact: Christiana Admiral, 928-608-6351
The National Park Service invites you to help Keep Glen Canyon Clean and looking its birthday best for the National Park Service Centennial in 2016. A community and partner collaboration to improve resource conditions at Lake Powell will be underway throughout 2016.
Breathtaking scenery and spectacular recreation are what Lake Powell is all about. However, park neighbors, including local photographer and author Gary Ladd, have noted that the Lake Powell experience is all too often marred by litter, human waste, graffiti, fireworks, serious injury and even death. Enough is enough! With 1 ¼ million acres and 2 ½ million annual visitors, park rangers at Glen Canyon National Recreation Area are asking for your help.
Please mark your calendar for the first annual Love Your Lake Community Cleanup on Friday, March 18, 2016. Participants will meet at the Wahweap picnic area starting at 9 a.m. Those on foot will be assigned to beaches, and those with boats can access locations throughout the lake. All participants will receive free park admission and launch for the day and a free pass to return and enjoy the park on another day. The event will feature a raffle at 1:30 p.m. with prizes donated by local businesses including Colorado River Discovery, Pepper's Restaurant, RD's Drive-In, and Boston's True Value, with the grand prize being a framed photograph of Lake Powell by Gary Ladd. Snacks will be provided by the Glen Canyon Natural History Association. Please wear closed-toed shoes, and come prepared to get dirty and have fun!Volunteer signup for children and youth groups participating with chaperones other than a parent should be prearranged by calling 928-608-6356, as parental signature is required.
The Know Before You Go public outreach campaign focusing on unsafe and illegal activities is launching for the 2016 boating season. Information will be shared with boaters at all Lake Powell marinas.
Local tour and service providers have signed up to Adopt a Canyon on Lake Powell, including: McNabb Fishing Guide Service, Hidden Canyon Kayak, Lake Powell Paddleboards, Four Corners Adventures, National Outdoor Leadership School, the Wildland Trekking Company, Aspiro, Far Out Expedition, and Zion Adventure Company.As canyon stewards, these companies will remove trash from their canyons throughout 2016.
The Trash Tracker program will be back for a 27th season in 2016. Teams of volunteers will be on the lake picking up trash and educating visitors.The Trash Tracker program is a partnership with Lake Powell Resorts and Marinas.
A Canyon Hosts program slated for later in the summer will expand the National Park Service presence on the lake. Volunteers on houseboats throughout the lake will fly a National Park Service flag, and provide information and assistance, similar to campground hosts.
"Happy Centennial and thanks for doing your part to keep Glen Canyon looking its birthday best," said Acting Glen Canyon National Recreation Area Superintendent Billy Shott. "I hope to see you out at the Love Your Lake Community Cleanup Day, and please help us keep an eye on park resources by participating in Powell Watch."
Last updated: March 4, 2016