Glen Canyon Celebrates Fourth Grade Students with Free Passes and Local Field Trips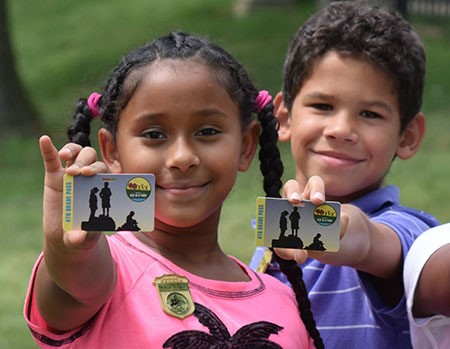 News Release Date:
September 9, 2016
Contact: Katie Wood, (928)614-4220
Fourth grade students around the nation are invited to visit Glen Canyon National Recreation Area for free over the next year as part of the Every Kid in a Park program.
The program, in its second year, will offer free passes to fourth graders, and those that accompany them, to access more than 2,000 public lands and waters. Passes are available online at www.EveryKidinaPark.gov and are valid for a full calendar year starting on Sept. 1.
"We hope that all fourth grade students and their families take advantage of this great opportunity to get into some of America's special places for free," said Billy Shott, Superintendent at Glen Canyon National Recreation Area and Rainbow Bridge National Monument. "Glen Canyon and Rainbow Bridge are two great treasures of the National Park Service and I hope that we'll see a lot of fourth graders out in the parks over this next year."
Locally, Glen Canyon will also renew the partnership program Bridging the Gap to bring educational programs about parks into fourth grade classrooms and take over 200 students on a field trip to Rainbow Bridge National Monument. The first classroom programs will be on Sept. 15 and 16 at Desert View Intermediate School in Page, Ariz. Students will receive an introductory lesson on National Parks as well as their Every Kid in a Park passes.
The Lake Powell School, in Lake Powell, Utah, will also participate in the Bridging the Gap program with classroom activities and a field trip this fall for students in all grade levels. Katie Wood, Education Coordinator for the two parks said, "It is so exciting that the success of last year's Bridging the Gap program allowed us not just to continue, but to expand this great program to include the Lake Powell School."
The Bridging the Gap programs are possible through the support and enthusiasm of the Glen Canyon Natural History Association, the National Park Foundation, Lake Powell Resorts and Marinas, the Page Unified School District, and the Kane County School District. A $9,000 Every Kid In a Park grant from the National Park Foundation will provide a significant amount of funding to make this program possible for the two schools.
Every Kid in a Park is part of President Obama's commitment to protect our nation's unique outdoor spaces, and ensure that every American has the opportunity to visit and enjoy them. The program, now entering its second year, is a call to action for children to experience America's spectacular outdoors, rich history and culture through their free pass. The pass grants entry for fourth graders, and up to three accompanying adults (or an entire car for drive-in parks), to most federally managed lands and waters, including national parks, forests, wildlife refuges and marine sanctuaries.
For more information, please visit www.everykidinapark.gov and follow the program on Twitter @everykidinapark, Facebook, Instagram and YouTube. For more information about youth and educational opportunities in Glen Canyon, please contact Katie Wood at e-mail us or 928-608-6352.
Last updated: September 12, 2016