Fire Restrictions at Glen Canyon National Recreation Area and Rainbow Bridge National Monument 2017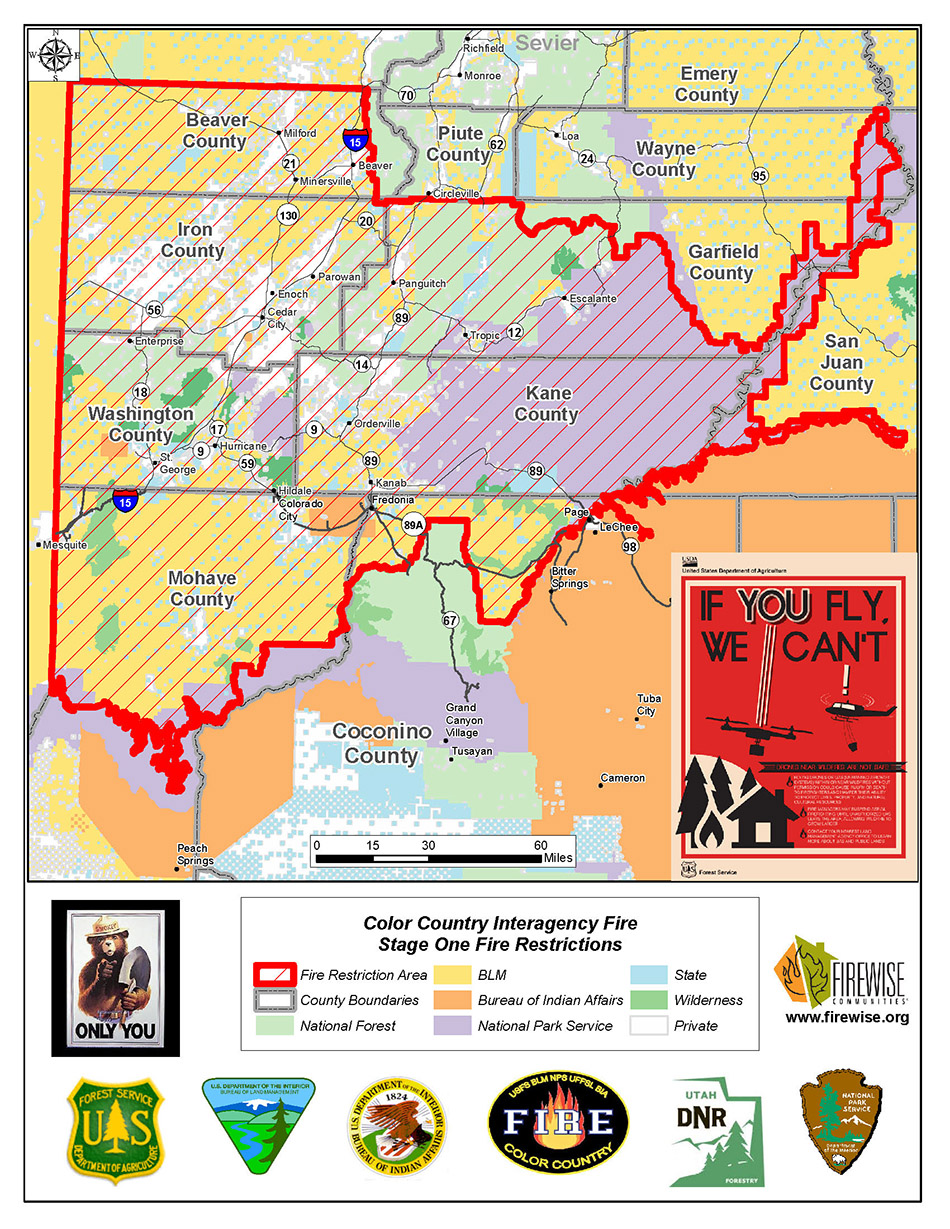 News Release Date:
June 21, 2017
Contact: Mary Plumb, 928-608-6202
Due to increasing human caused wildfire activity, dry conditions, and high fire danger in southwest Utah and northwest Arizona, Color Country Interagency Fire Managers are implementing additional fire restrictions beginning Wednesday, June 21 at 12:01 a.m. The following describes the restrictions implemented by each fire management agency in the Color Country Fire Management Area.   
Restricted Lands in Washington, Iron, Beaver, Kane, Garfield, Mojave, and Coconino Counties:  Information on fire restrictions affecting the Arizona Strip, Mohave and Coconino counties can be found at: 
https://firerestrictions.us/az/
Unincorporated privately owned and all state administered lands (Utah Division of Forestry Fire and State Lands). Incorporated towns and cities are not included in these restrictions. (Contact your local fire department for municipal restrictions).
Bureau of Land Management (Utah/Arizona Strip).
Dixie National Forest (Pine Valley, Cedar City, Powell and Escalante Ranger Districts).
National Park Service (Zion National Park, Bryce Canyon National Park, Cedar Breaks National Monument, Pipe Springs National Monument, Glen Canyon National Recreation Area, and Rainbow Bridge National Monument).
Bureau of Indian Affairs (Trust Lands of the Shivwits, Cedar, Indian Peaks, and Kaibab Band Reservations).
Please Note: Lands not in fire restrictions are becoming increasingly dry and fire danger is increasing daily. Please ensure your campfire is completely out before you leave and all ignition sources are a safe distance away from vegetation to mitigated unwanted wildfires.  
Fire Managers are continually evaluating the need for further fire restrictions. Please verify with your local land management agency before conducting any fire related activity in question.
 
###
FIRE RESTRICTION ORDER
ORDER No. UT-040-02/2
United States Department of the Interior
National Park Service
Glen Canyon National Recreation Area and Rainbow Bridge National Monument
Effective date: June 21, 2017, 12:01 a.m.  
Pursuant to regulations of the Department of Interior, Title 54 USC section 100101 (a) and 36 Code of Federal Regulations, subsections 1.5 Closure and public use limits (a) (1), 2.13 Fires (a) (5) (c), 2.21 Smoking (a), and 2.38 Explosives (b) (c), the following acts are prohibited on the area, roads, and trails described below until rescinded by the Superintendent of Glen Canyon NRA and Rainbow Bridge NM.  
Setting, building, maintaining, attending or using open fire of any kind, except campfires and charcoal fires within agency approved fire pits and grills provided for in developed recreation sites and picnic areas or under permanently improved places of habitation. Campfires are also permitted below the high water mark of the lake in areas devoid of vegetation. Devices fueled by petroleum or LPG products are allowed in all locations
Smoking, except in an enclosed vehicle or a developed recreation site, or while stopped in an area at least six feet in diameter that is barren or cleared of all flammable material down to mineral soil.
Discharge or use any kind of fireworks or other pyrotechnic devices. They are prohibited at all times on all federal public lands.
 
The following conditions are exempt from the order:
Those persons with a permit authorizing the otherwise prohibited act, or in those areas authorized by written posted notice in the area of operation. Permits may be obtained from Glen Canyon National Recreation Area.
Any federal, state, or local officer or member of an organized rescue or firefighting force in the performance of an official duty.
Campfires and charcoal fires will continue to be allowed in Glen Canyon National Recreation Area below the high waterline in areas devoid of vegetation.
Area Description:
All lands within the boundaries of Glen Canyon National Recreation Area and Rainbow Bridge National Monument.
Violation of the above, prohibited acts is punishable by a fine of not more than $5,000 and/or imprisonment for not more than twelve months, or both (43 CFR 9212.4).
William Shott, Superintendent, Glen Canyon National Recreation Area and Rainbow Bridge NM. Date 6-20-17  
Last updated: June 21, 2017