First Annual Bat Festival in Glen Canyon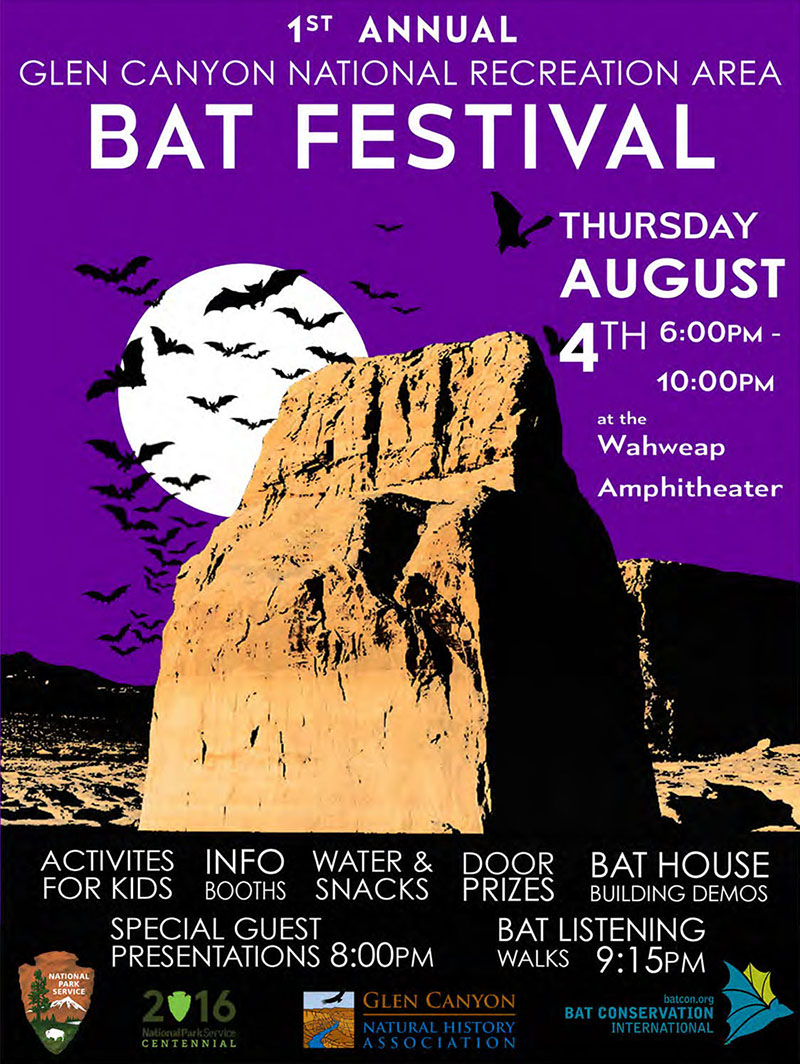 News Release Date:
July 22, 2016
Contact: Katie Wood, (928)614-4220
Contact: Karen Dallett, (928)640-3900
The National Park Service (NPS) and Glen Canyon Natural History Association (NHA) will host the first annual Glen Canyon Bat Festival on Thursday, August 4 at the Wahweap amphitheater.
This free event will include informational booths, kid-friendly crafts and activities, guest presentations, and a bat discovery walk. Festivities will begin at 6 p.m.and conclude just after 10 p.m. Arizona MST.
The bat festival will highlight how important bats are in reducing insect populations, dispersing seeds, and even pollination in more southern desert climates. "We get to live our lives relatively pest-free here because of the hard work of bats," said Amanda Boston, program coordinator for the Glen Canyon NHA. "There are a lot of misconceptions about bats, and the goal of hosting this festival with the park is to celebrate these underappreciated mammals and our unique relationship with them."
Guest speaker Jason Corbett with Bat Conservation International will speak about the benefits of bats and the looming threats posed by white-nose syndrome (WNS) to bat populations nationwide. Other presentations and activities will be led by NPS and NHA staff and will even highlight the bat monitoring efforts in Glen Canyon.
The event will also showcase local research in Glen Canyon which began in 2015 and continues this year. According to Lonnie Pilkington, Natural Resources Program Manager with the NPS at Glen Canyon, "recent bat monitoring projects in Glen Canyon have been able to engage citizen scientists and increase public awareness of the threats bats are facing." Those threats range from white-nose syndrome to habitat loss to impacts from wind power development.
Attendees to the August 4 Bat Festival will have a chance to participate in a bat discovery walk at 9:15 p.m.Participants will use iPads and other wildlife monitoring devices to identify bat species by sound on an easy 1-mile guided walk between the campground and Swim Beach. For more information, look to the events calendar at www.nps.gov/glca.
Last updated: July 25, 2016