Date:
March 8, 2011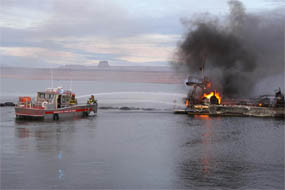 Firefighters battling a fire on Wednesday evening, March 2, in the Wahweap Marina in Glen Canyon National Recreation Area (NRA) were able to save 40 vessels, Glen Canyon Superintendent Todd Brindle said Thursday.
The Glen Canyon dispatch center received a call at 4:36 p.m. regarding a fire in the Wahweap Marina. National Park Service (NPS) rangers and firefighters responded immediately and used the new fire boat. By the time rangers arrived on the scene, four private houseboats moored on "O" dock were engulfed in flames. Page and Greenehaven Fire Departments also responded. The fire was contained by 5:04 p.m.
Fire personnel used the fire boat to both fight the fire and tow the burning vessels out from their slips in the marina preventing the spread of the fire to other vessels. No firefighters were injured. At this time, it is not believed that there were any occupants aboard the houseboats. The cause of the fire is still under investigation by the National Park Service in conjunction with Coconino County Sheriff's Office.
Four houseboats and one personal watercraft were completely destroyed. A fifth houseboat sustained approximately 30-50% damage. Multiple fingers on the "O" dock sustained very heavy damage. A preliminary estimate by park concessioner Aramark approximates damage to the houseboats and dock to total $1 million dollars. A quick response time to the fire prevented damage to adjacent vessels on the dock. "We commend the collaborative efforts of our Park Service staff, Page Fire Department, and Greenehaven Fire Department for their quick response to this emergency and for saving so many vessels." Superintendent Brindle said. "Glen Canyon is fortunate to have such an advanced structural fire program in place to respond to marine fires.
The new fireboat performed phenomenally and was a key factor is containing the fire safely and efficiently. Without the dedication and expertise of our fire responders, this fire would have been even more devastating."
The burned vessels were transported to the Wahweap launch ramp. At this time, the Wahweap launch ramp is closed to the public. The Stateline launch ramp has been opened for public use.