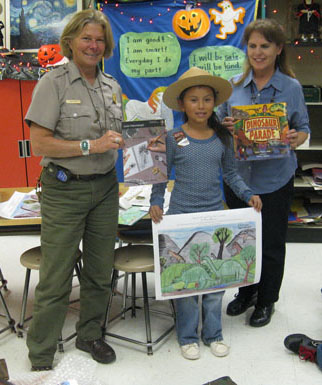 News Release Date:
October 27, 2010
Lennae Nockideneh, age 8, is the 3rd place winner for the 5-8 age group in the first ever National Fossil Day art contest. Lennae is a student at Desert View Elementary in Page, Ariz.
"On behalf of the National Park Service, I'd like to congratulate Lennae for her winning entry," said Glen Canyon National Recreation Area Acting Superintendent Kym Hall. "Lennae's artwork celebrates the wonderful diversity of fossils as clues for understanding the history of life, past climates, and ancient landscapes," she added.
This national contest was sponsored by the National Park Service and National Fossil Day partners to celebrate the first annual National Fossil Day on October 13, 2010. The theme for the contest was: "Paleontology: preserving the past for our future."
Artwork was judged by a panel of geoscientists on originality, creativity, quality and relevance to the theme. Winners were awarded in each of the four age-group categories. The age groups were 5-8 years old, 9-13 years old, 14-18 years old, and 19 and older. The winning entries are featured on the National Fossil Day website, http://www.nature.nps.gov/geology/nationalfossilday/art_contest_2010_results.cfm