Charles Hall Ferry Improvements Public Scoping Notice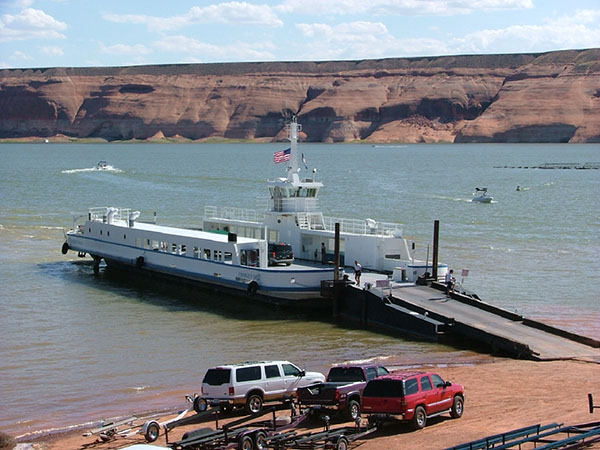 News Release Date:
August 19, 2016
Contact: Cynthia Sequanna, (928)-608-6356
The National Park Service (NPS) invites the public to provide comments related to proposed improvements to the Charles Hall ferry terminal road and ramps on State Route 276 (SR-276) in Bullfrog and Halls Crossing, Utah within Glen Canyon National Recreation Area. The proposed ferry terminal road and ramp improvements would be completed in partnership with the Utah Department of Transportation (UDOT).
The extension and improvement of the ferry roads and ramps is needed in response to a trend of decreasing lake elevations over the past several years which has affected the ability of the ferry to maintain normal operations and operating schedules.By improving and extending the ferry roads and ramps, the NPS and UDOT plan to: implement environmentally sound, cost-effective management strategies that pose the least possible risk to people, park resources, and the environment;provide for the continuing operations of the Charles Hall Ferry to a lake elevation of 3,555 feet in response to trends of decreasing lake levels;reduce operational costs, traveling distance, and time per trip;and maintain visitor experience during construction.
We invite you to submit written comments by September 9, 2016 in one of the following ways:
Online:       https://parkplanning.nps.gov/lakepowellferry
By mail:     Superintendent
                  Attn: Charles Hall Ferry Ramp Improvements
                  PO Box 1507
                  Page, AZ 86040
By fax:     928-608-6204
In person: Monday–Friday 7:30-4:00
                 Glen Canyon Headquarters
                 691 Scenic View Drive
                 Page, AZ 86040
The NPS is preparing an environmental assessment (EA) in compliance with the National Environmental Policy Act (NEPA) and the National Historic Preservation Act (NHPA). The EA will evaluate potential impacts to natural and cultural resources, visitor use and experience, and park operations. We anticipate the EA will be available for public review and comment this fall.
For more information please contact Erin Janicki, Chief of Planning and Compliance at e-mail us.
Last updated: August 22, 2016