Bat with Rabies Found at Glen Canyon Aug 2016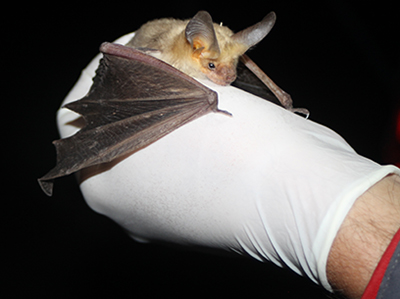 News Release Date:
August 23, 2016
Contact: Amanda Hammond, (928) 608-6353
A dead bat found recently near Lees Ferry tested positive for rabies. Glen Canyon National Recreation Area staff received five reports of dead bats near Lees Ferry so far in 2016; this is the first bat to test positive for rabies.
Less than one percent of bats are infected with rabies, but bats that are acting strangely, or encountering humans, are approximately five times more likely to have rabies than those behaving normally. Rabies is completely preventable in humans. To prevent the disease while visiting the park:
Enjoy wildlife from a distance.

Alert a park ranger if you see a sick or strangely acting animal.

Never touch a bat, living or dead, and tell park staff if a bat is found inside.

Vaccinate and spay or neuter your pets.

Educate children about rabies, as they are most at risk.
If visitors see sick or dead bats, or other sick or dead wildlife, they should immediately contact Glen Canyon Natural Resources Program Manager, Lonnie Pilkington, at 928-608-6269 or e-mail us.
Bats play an important role in the ecosystem and humans benefit from them in many ways, but rabies can be lethal for both bats and humans. You can learn more about how to take necessary precautions when encountering bats at the following web link: https://www.nps.gov/orgs/1632/upload/Rabies_FactSheet.pdf
Last updated: August 24, 2016