2016 McGinn and Axelsen Scholarship Awarded to Greg Galloway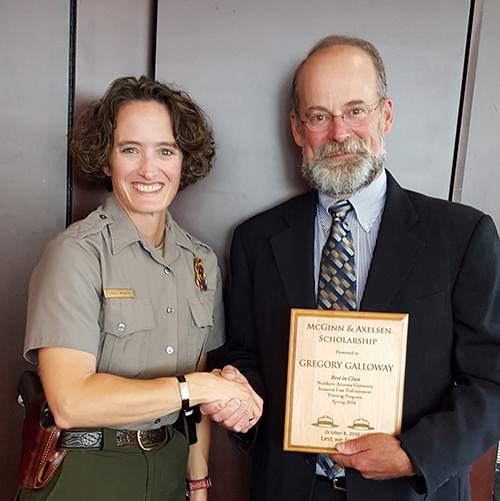 News Release Date:
May 2, 2016
On April 29, 2016 the ninth Brent McGinn and Laurie Axelsen Scholarship was presented to Greg Galloway, "Best in Class" at the Northern Arizona University Seasonal Law Enforcement Training Program. Galloway was awarded with a $1500 scholarship, commemorative plaque and a memorial coin. Glen Canyon National Recreation Area Chief Ranger, Lindy Mihata, presented Galloway with the award on behalf of the friends and families of Brent McGinn and Laurie Axelsen.
Brent McGinn and Laurie Axelsen died in an off-duty aircraft accident in October of 2010. The McGinn & Axelsen Scholarship fund was created through the Glen Canyon Natural History Association to honor Brent and Laurie, and to financially assist future rangers who graduate from seasonal law enforcement training programs with top honors. Galloway embodies the characteristics of excellence, integrity, hard work, and pride in performance exemplified by Chief Ranger McGinn and District Ranger Axelsen.
Last updated: May 2, 2016