Lees Ferry Fishery Monitoring
The National Park Service manages the Lees Ferry Reach as a Recreational Rainbow Trout Fishery with our Arizona Game and Fish Department partners.
The US Geological Survey's Grand Canyon Monitoring and Research Center (GCMRC) is conducting a study of the rainbow trout population in Lees Ferry which has been on-going for several years. The National Park Service works closely with GCMRC on a number of research and monitoring projects. GCMRC performs many of these studies as part of the Glen Canyon Dam Adaptive Management Program.
The National Park Service worked closely with the Arizona Game and Fish Department and many other cooperators on the 2013 Comprehensive Fishery Management Plan (CFMP) Environmental Assessment for Glen and Grand canyons. During this planning process there were several opportunities for public input with scoping and comments on the draft plan as well as outreach and communication with the fishing guide community.
The CFMP included goals for maintaining a high quality rainbow trout fishery in the Lees Ferry area, and conserving native fish in Grand Canyon. The plan evaluated and selected an alternative which included a comprehensive control plan for brown trout, targeting source areas, including Bright Angel Creek and other areas that could be identified as spawning areas in the future. The CFMP includes the removal of any brown trout captured when found as part of any fish monitoring actions from anywhere within the project area, including the Lees Ferry area. The CFMP also allows for rapid response removal of any spreading high-risk nonnative species. Additional planning may be necessary before targeted long-term removal efforts occur for brown trout in the Lees Ferry area.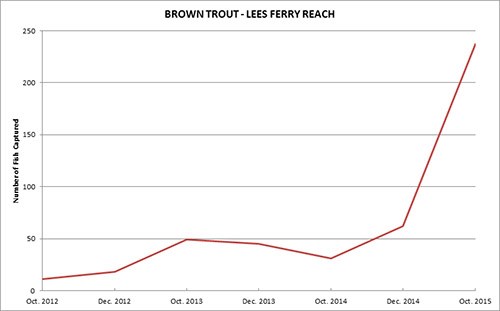 The 2015 Arizona Game and Fish Department Fisheries Management Plan for Lees Ferry also determined that brown trout were undesirable in this reach. This plan includes removal of brown trout when encountered during monitoring trips.
Brown trout numbers have been increasing upstream of Lees Ferry over the last few years, and they present a concern in this location for several reasons: 1) brown trout are predators that feed on rainbow trout and threaten the quality rainbow trout fishery 2) these predators are also a threat to endangered humpback chub downstream of Lees Ferry. Additional research and removal efforts may be needed to keep this population from expanding and harming the rainbow trout fishery or endangered humpback chub downstream.
Harvested brown trout can provide important scientific information on diet, growth and spawning season.
Harvested brown trout are stored on ice and traditionally associated Tribes are contacted so that these trout can be made available for beneficial uses such as human consumption or use at tribal eagle aviaries.
Removal of brown trout is expected to help maintain or improve the established rainbow trout fishery in Lees Ferry, as well as protect native and endangered fish downstream in Grand Canyon.
Last updated: January 17, 2017