Bridging the Gap
In this immersive educational experience, fourth grade students participate in several classroom-based programs followed by a field trip to Rainbow Bridge National Monument.
Classroom programs include:
An Introduction to National Parks
Desert Plant and Animal Adaptations
Glen Canyon and Rainbow Bridge Geology
The Cultural Significance of Rainbow Bridge.
Logistics
The field trip consists of a 6-7 hour roundtrip experience departing from Page, Arizona with boat transportation arranged through park concessionaire, Lake Powell Resorts & Marinas.
Why Rainbow Bridge?
Rainbow Bridge National Monument is an extremely remote site with amazing stories to tell our local youth. Because it can only be reached via multi-day backpacking trip or boat, a visit to Rainbow Bridge poses geographical and economical challenges for many. Bridging the Gap serves to make the experience more accessible for local youth, and to give them a chance to explore this unique natural bridge and the significance it holds for many area tribal nations.
For more program information, please contact the Glen Canyon Education Coordinator at 928-608-6352, or contact us here.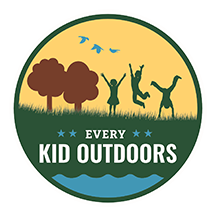 Every Kid Outdoors
Check out the Every Kid Outdoors website to learn how 4th graders and their families can get free access to hundreds of parks, lands, and waters for an entire year.
Bridging the Gap Student Artwork
In the 2015-2016 and 2016-2017 school years, fourth grade students from Desert View Intermediate School in Page, Arizona and Bluff Elementary in Bluff, Utah participated in the program. See their art and writing pieces inspired by their trip.
Last updated: September 19, 2019