GRIT Job Description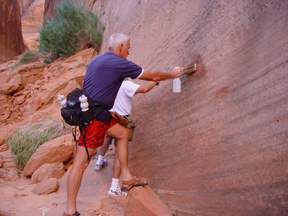 Work will be performed under the direct supervision of the GRIT pilot or his/her designated representative. Project work will be performed during daylight hours, in an outdoor setting, and volunteers should expect to be exposed to rugged, rocky terrain and extreme weather conditions. Work will involve the use of hand and power tools in removing non-historical graffiti from the Lake Powell shoreline. Other duties will include hiking into canyons to map graffiti using a GPS and handing out literature to visitors.
QUALIFICATIONS:
All volunteers must be 18 years of age or older and willing to perform basic clean-up functions. Volunteers must be in good health and able to walk up to 3 miles a day over sandy and rocky terrain carrying a pack weighing 10-30 pounds. They have to be able to do bending, lifting, and working for extended periods in temperatures reaching the 100's during the summer months. Due to close living conditions aboard the houseboat, volunteer must be adaptable, flexible, and respectful of others.
COMMITMENT:
Volunteers will be asked to commit to working a minimum of 5-6 hours per day removing graffiti from the shoreline of Lake Powell.


Last updated: May 29, 2015