Canyon Host
Volunteers interested in this opportunity
**MUST HAVE THEIR OWN HOUSEBOAT**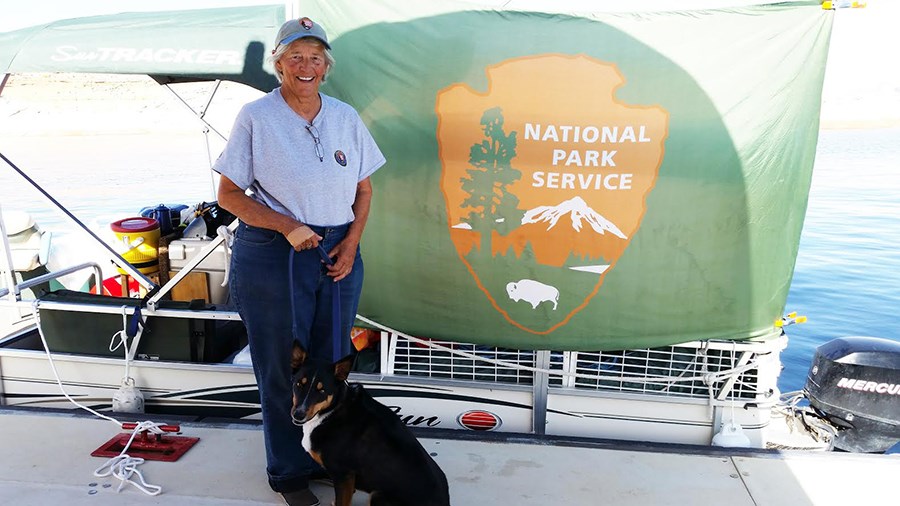 Canyon Hosts are our answer to the traditional Campground Host for Lake Powell. We are recruiting volunteers to live aboard their own houseboat for an extended length of time in order to improve our visitor's experience by having knowledgeable, responsible houseboaters throughout the lake who can offer area information, directions, and safety tips. Canyon Hosts are equipped with park radios and can help connect visitors with Law Enforcement in case of an emergency. They also conduct area beautification projects near their camps to pick up trash and assist with graffiti removal projects.
Duties and Responsibilties
Lead FREE! guided hikes on Lake Powell provide information about the geology, history, and wildlife of Glen Canyon National Recreation Area.
Offer boating tips like how to anchor your boat securely, and where is a good place to camp.
Act as official uniformed NPS representatives, living on Lake Powell in personally-owned houseboat or cabin-boat.
Have extensive knowledge of Lake Powell.
Provide a minimum of 30 volunteer hours per week in a combined capacity of visitor contact and interpretive services, area beautification, and "neighborhood watch" law enforcement reporting. Think of them as a "Floating Campground Host".
To Apply
Fill out an application on volunteer.gov. Applications are not generally accepted during winter months.
Canyon Hosts are needed May to October, minimum one month commitment. The park is looking for hosts to cover all areas of the lake: near Bullfrog, Wahweap, and Dangling Rope.
Last updated: October 24, 2018