things2do
Go kayaking
Take a hike
Plant a tree
Eat lunch
Go fishing/ crabbing
Camping
A free campground (14-day limit) with bear-resistant food caches, firewood, and a warming hut, is located at Bartlett Cove. No reservations are accepted, but a permit is required. Campground permits are issued at the Visitor Information Station on a first-come, first-served basis. The National Park Service maintains this campground from 05/01/04 To 09/30/04. Phone 907-697-2627.
All campers are required to obtain a free permit and attend a camper orientation which is given on demand at the Visitor Information Station near the dock. Campers may check out a bear-resistant food canister at this time (free of charge and required for most backcountry camping). If desired, campers may be dropped off in the backcountry by the Park's concession-operated tour boat.

Getting Around
For those arriving at Bartlett Cove or Gustavus and desiring to travel into the park, Glacier Bay is best seen by boat. The distance to the tidewater glaciers is 50-60 miles. The Glacier Bay Lodge park concession runs a daily tour boat beginning in late May through mid-September. The journey takes about eight hours round trip. A National Park Service ranger-naturalist is on board to point out the bay's natural features and wildlife and to answer questions.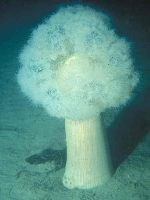 For reservations and information, click on the
Glacier Bay Lodge/Day Boat
link above. There are few trails in the park, and most campers journey through the bay by kayak, either on their own or as part of a guided trip. Kayaks may be rented, and a kayak drop-off vessel operates daily during the summer months. For more information, click on the "Kayaking" and "Camping" links on the Activities page of this website (see "more" below). Limited hiking opportunities are available from Bartlett Cove, either along the beach or on one of the approximately seven miles of trails that wind through the rain forest. Click on the "Hiking" link on the Activities page for more information and a map showing trail locations. In addition to traveling by tour boat or kayak, other options include seeing Glacier Bay by locally chartered vessel or viewing the park from a flightseeing aircraft. Click on the Visitor Services Directory link above for a listing of companies that provide those services. Pleasure boats are welcome. A free permit is required, and there is a limit on the number of vessels allowed in the park at one time. For complete boater information, click on the "Boating" link on the Activities page. The Tatsenshini/Alsek Rivers begin in Canada, run through the northern edge of the park, and empty into the Gulf of Alaska at Dry Bay in Glacier Bay National Preserve. Commercially guided trips are available, and a permit is required for private trips. For information on river travel, click on the "Whitewater Rafting" link on the Activities page.


Last updated: April 14, 2015