Advanced Notice Permits

When can I apply for an Advance Notice Permit?
You can apply for an Advance Notice Permit
up to 60 days from the date you want to enter
the Park. Do not apply prior to 7:00 AM Alaska Time as your permit may be denied or put in a lesser order of priority.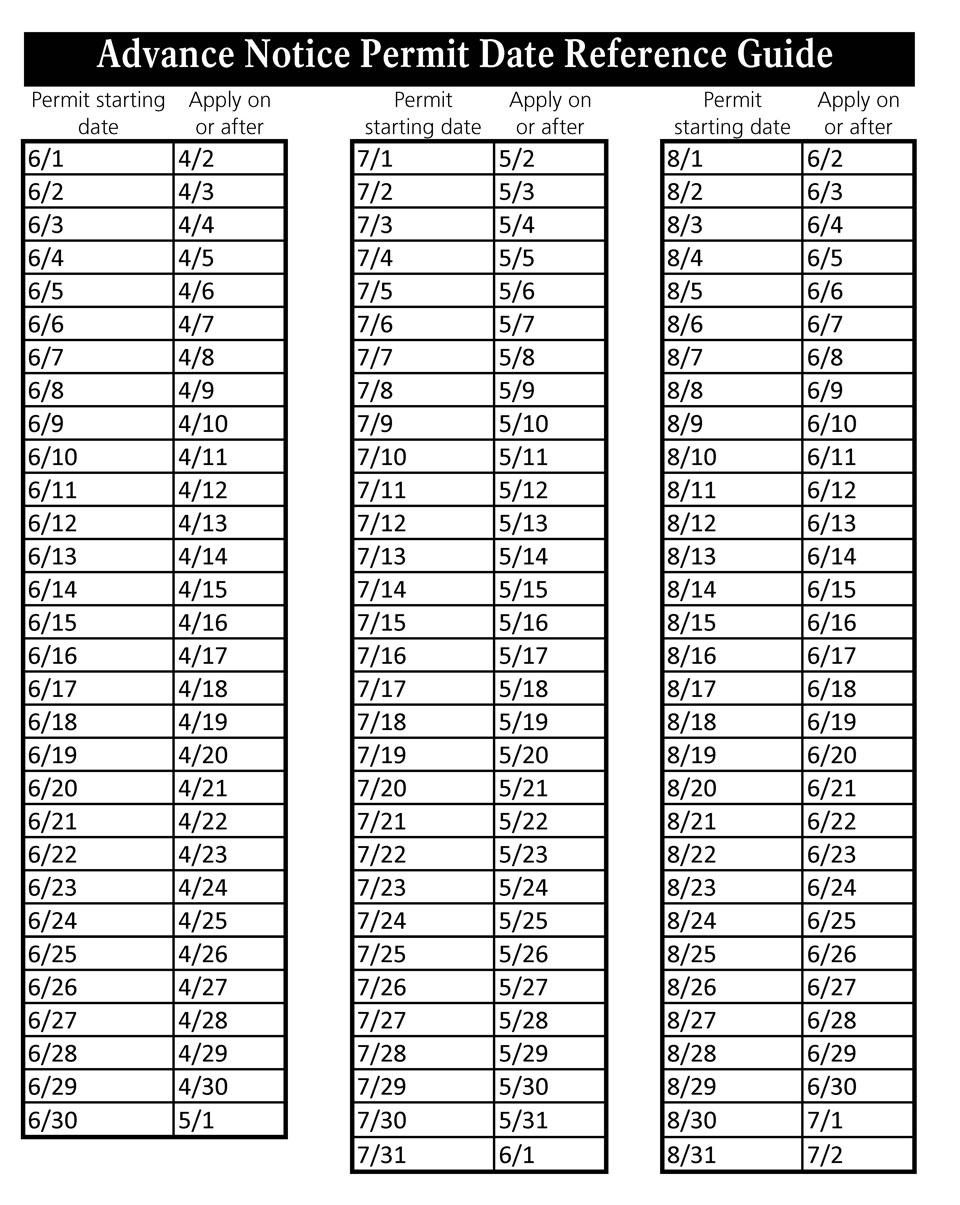 How do I apply?
Using the
permit application
on this website you may e-mail/fax/hand carry/call it into the Visitor Information Station. The e-mail address/fax number etc. is at the top of the permit application.
What are the 3 date options?
Please keep in mind that you cannot apply for a permit more than 60 days in advance, none of your 3 date options should be further out than 60 days. If your first date requests are full the 2
nd
and 3
rd
requests will be considered.
After I send in my application what should I expect?
If you sent in your application at 7 a.m., 60 days from the date you want to enter, you will receive a reply once staff has processed your application, usually before noon. All applications are stacked in the order of priority by time and as they are confirmed or denied you will be notified.
If my permit is confirmed what do I do next?
If you are confirmed that you have a permit to enter Glacier Bay National Park, read over your confirmation letter carefully. It has some very important information, are your dates on the confirmation letter correct? It lets you know that you need to contact the Visitor Information Station within 48 hours of your entry to reconfirm you are arriving on the first day of your permit. This is
VERY
important because if you don't arrive by 10 a.m. on the first day of your permit and you haven't called; your permit is canceled and given out to another party. We call this 'due verifying' and is just like a reconfirmation! The other important bit of information on your confirmation letter is the importance of calling us on the radio as you get ready to enter the Bay. When you call us on the radio (KWM20 Bartlett Cove) we will welcome you and instruct you on the most current regulations…most likely it will be something like, "please enter Glacier Bay at least 1 mile from shore at a speed of no more than 13 knots…." We will also give you the times of the next boater orientations.
What if my application is denied?
First of all and most important, don't give up hope…you can apply for other dates, try to be flexible as you can. If you are still having trouble getting an Advance Notice Permit you may apply for a
Short Notice Permit.
The peak of the permit season typically occurs between June 20th and July 20th. During this period permits may be difficult to get.
Last updated: September 19, 2018