Research Permit Application Process

Permit Application Process
Scientific Research and Collecting Permit Applications are submitted online through the NPS Research Permit and Reporting System at https://irma.nps.gov/rprs/Home.
It is suggested that large sections of text be first created as word processing documents and then copied/pasted (vs.simply typing them directly into the text fields of the Application). If you encounter difficulty uploading large files (proposals, maps, images, etc.), they can be sent by email to the Research Coordinator. The information in the application alone is frequently insufficient to allow a complete evaluation of your proposed research. Please take advantage of the ability to link a full and detailed proposal or study plan of your work to the Application.
In addition, we ask that prospective researchers complete the short Research in Glacier Bay Wilderness Questionnaire. Please provide detailed information about your proposed activities in that context.
The Application and Wilderness Questionnaire are reviewed by an interdisciplinary team (see below), potential conflicts are mitigated (in consultation with the prospective researcher) to the extent possible, and a Research and Collecting Permit is issued and co-signed by the researcher.
Please Note: in rare cases a determination is made that a proposed research project is inconsistent with park purposes.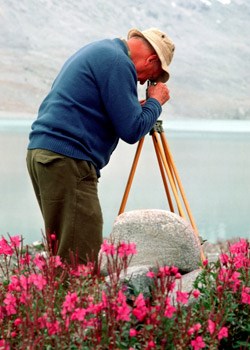 Application Review Process
The review process is designed to ensure that park resources and values, as well as other park users, are not unduly affected by the proposed research. In addition, we strive for consistency, equity, and fairness in our evaluation. Proposals for "internal" research (conducted by NPS employees) undergo the same review process. An interdisciplinary team will evaluate applications to determine potential impacts in several areas, including:
Environmental resources as required under the 1969 National Environmental Policy Act (NEPA)
Cultural resources as required under the 1966 National Historic Preservation Act (NHPA)
Subsistence resources and/or activities as required under the 1980 Alaska National Interest Lands Conservation Act (ANILCA)
and Wilderness character as required under the 1964 Wilderness Act.
The following criteria are among those used to evaluate scientific research proposals (all should be explicitly described in detail in the proposal/study plan or in response to the Wilderness Questionnaire)
Will the proposed activity result in degradation of the purposes, resources, and values of the park?
Could the proposed research be performed outside the park?
What are the potential benefits of the research to science? To park management in general? To wilderness stewardship?
Will the proposed research occur within a designated or suitable Wilderness area? How will the proposed research impact the various elements of wilderness character?
Does the proposed research require collection of specimens (of any kind) or artifacts, or sampling of materials? What will be the disposition of the collectedspecimens/samples?
Does the project involve any digging or other ground-disturbing activities?
Does the proposed research involve capturing, handling, or marking/instrumenting any animals?
Does the proposed research involve disturbing, injuring, or scarring of any living or non-living resources?
What scientific equipment (e.g., instruments,tags, plot markers) or other installations or materials will be left within the park and for what length of time?
Does the application clearly describe mode(s) of access/transportation to be used within park and Wilderness boundaries (i.e.,foot, kayak, motorized vessel, floatplane, helicopter, etc.)?
Does the proposed research require any motorized (including battery-operated) tools or equipment?
Are study site and camp locations, group size, dates, etc. clearly described?
Has the proposed research been peer-reviewed for scientific integrity by recognized experts?
Does the proposed research require any additional federal or state permits? Have they been obtained and provided to the Research Coordinator?
Have any requests to the park for logistical orother in-kind support (e.g., vessels, equipment, personnel, office/lab space,housing, storage) been clearly described?
Last updated: April 14, 2015