Killer Whale Skeleton Discovery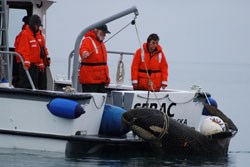 A small, juvenile female killer whale, approximately 12 ft. long and 5 years old, was found dead on Young Island in Glacier Bay on August 26th, 2005. She weighed approximately 600-800 lbs.
Park personnel towed the dead calf to Bartlett Cove to await further examination by veterinarian Dr. Pam Tuomi from the Alaska Sea Life Center (Seward, AK). The necropsy performed on August 28th determined the whale died of pneumonia and malnutrition as a result of injuries sustained from swallowing a halibut circle hook.
Who was this little killer whale? As far as we know, this calf had not been previously identified, but she was presumed to be a resident type killer whale from AF or AG pod. A large group of resident killer whales had been seen and acoustically heard in the area before and after this stranding.
During a Grand Opening Celebration in February 2014, Tlingit elders named the whale "Keet'k," which means "little whale."
There are many steps to putting a killer whale back together!
Last updated: April 14, 2015