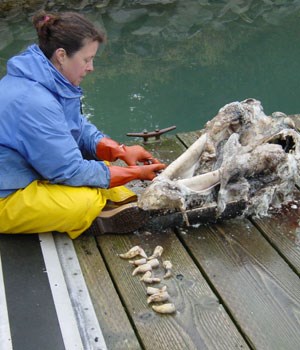 The Bones and Teeth
A few days after the necropsy, the entire skeleton was flensed and prepared for cleaning. The bones were carefully separated into bundles and put into either crab pots or nets and submerged in the ocean for almost two months. Over the next several weeks park staff carefully monitored the bones, including a large, plastic trash can which held the skull. After soaking for almost a month, all forty-eight teeth were loose enough to be removed without causing damage to the teeth or jawbones. They were given a final cleaning and stored in olive oil to prevent cracking.
After a few more weeks of soaking, the entire skeleton was removed from the ocean and moved to compost at the local landfill for further cleaning.
Journal entry - October 19th, 2005:
"The orca has been relocated to the town landfill! First, Chris pulled all the teeth, which was not her favorite chore and reminds her never to be an oral surgeon. The left teeth came out much more easily than the right side. The two spinal column sections were transferred from crab pots to nets. The head was also put in a net. The other three nets, plus the newly netted sections, were transferred to the Gustavus landfill. First, a six to twelve inch layer of hot wood chips was laid down to improve drainage. Then the bone bags were arranged in a row. And finally, a three to six inch layer of horse manure was laid down over the bone bags followed by another six inches of wood chips. The whole pile was covered in a black composting fabric and chain link fencing to keep the birds away."
In the spring, the skeleton was excavated and brought back to Bartlett Cove. Throughout the summer, park staff and volunteers continued cleaning until the bones were ready to go into dry storage. From September 2006 until September 2012, the bones and teeth were kept in a large storage container (the "bone cache") to await the next step - articulation and installation.