Killer Whale Articulation and Installation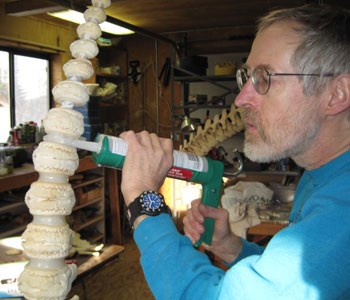 Getting Prepared
In February 2014, the park hired well-known Articulation Specialist, Lee Post (www.theboneman.com), from Homer, Alaska to reassemble the bones into a skeletal display. Lee came highly recommended and had previously articulated twenty whale skeletons of various species, four of them killer whales. According to Lee, Glacier Bay's killer whale calf was rare among specimens due to its young age (5 to 6 years), size (11 feet, 9 inches), and pristine condition of the bones. He stated that were were fewer than eight complete killer whale skeletons on display in the United States.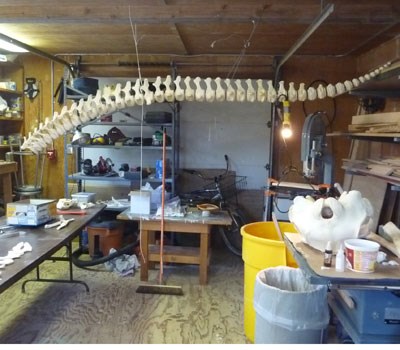 For a little over two weeks, Lee worked in a 10' x 16' shop located just behind the local K-12 Gustavus School. It was heated with a small oil stove, but warmed by the laughter and curiosity of dozens of school children as they came in daily to check out his progress. Park rangers facilitated classroom visits and hosted volunteer hours every afternoon. Even with only a short window for articulation, Lee always paused to answer a question or listen to a story. He came prepared with all his tools knowing Gustavus had no road access to or from any other town for materials or supplies. Several boxes of nuts, bolts, screws, and fasteners were mailed to the park making good use of flat rate priority mail!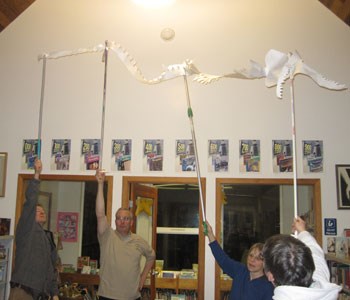 Getting Started
With the expert in Gustavus, the whale team had to make a few decisions before the articulation could begin. Two of the most important ones were the skeleton posture and the display direction. It was important to the park to choose a pose that would reflect the motion of the whale as if it were swimming in real life. With ideas, suggestions, and books in hand, Lee created a scaled diagram to reflect the desired curvature of the spine. Amazingly, he got it right on the first try! His design and a metal 3/4" pipe were taken to the maintenance shop in Bartlett Cove and bent to the corresponding shape.
To help guide the direction of the display, a paper model was created to help simulate size and position. Although this was helpful, the small size of the actual skeleton made it easy enough to manipulate on site during the installation. In the end, the final direction and placement of the skeleton was guided by the building blue prints and the eyes of those who were present during the installation.
Final Inventory
Before any holes were drilled, Lee conducted a final inventory and assessment to help anticipate the time he would need to make repairs and/or create replacements for missing bones. Fortunately, only minor repairs had to be made to the scapula (shoulder blades) and a few replacements fabricated for missing phalanges (finger bones). The assessment also allowed him to determine if any additional hardware would be needed. It could be ordered from Juneau or obtained from the park or community within a few days.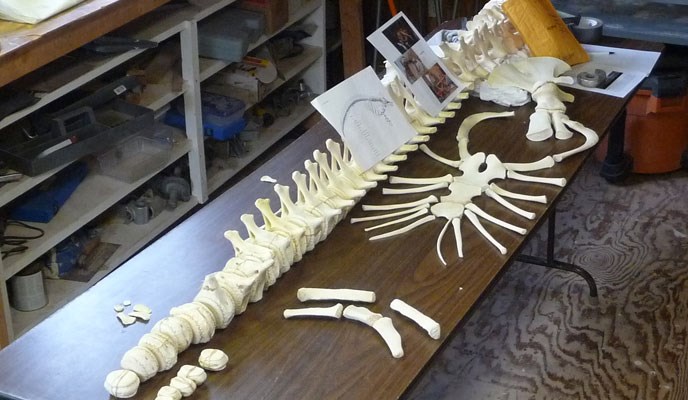 There are many steps to putting a killer whale back together!
Last updated: April 14, 2015