Glacier Bay Tour Vessel Concessioners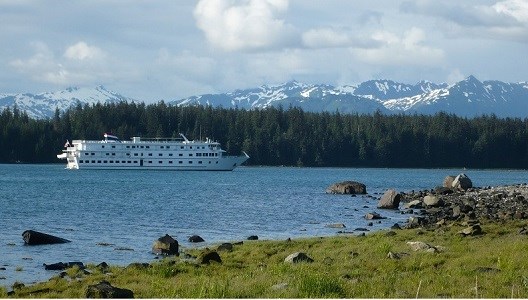 This page has specific information on business providing tour vessel services in Glacier Bay National Park & Preserve. For a listing of all visitor services in and around Glacier Bay, please see the list of Goods and Services.
Overview
Tour vessel
means any motor vessel of less than 100 tons gross (U.S. System) or 2,000 tons gross (International Convention System) engaged in transport of passengers for hire and certificated to carry more than 12 passengers overnight or more than 49 passengers for daytime use.
All Commercial Vessel Services are authorized in accordance with the Park's Vessel Management Plan. The Vessel Management Plan also provides for vessel use restrictions aimed at protecting park resources (humpback whale feeding, seal pupping, etc.). Glacier Bay National Park, Vessel Management Plan Regulations became effective on January 2, 2007 that revised the definition of a tour vessel (above).
A maximum of three tour vessels per day are allowed in Glacier Bay (year around), seasonal limits not applicable.
Concession Services
Tour vessel concessioners are required to provide interpretive tour vessel services in Glacier Bay for the purposes of sightseeing. The concessioners are also authorized to provide non-motorized water based and land based activities occurring off a tour vessel.


Last updated: March 13, 2018