Glacier Bay Lodging

This page includes information regarding the concession authorization for accommodations, food service and related services based in Bartlett Cove (near Gustavus). For a listing of all businesses that provide visitor services in and around the Park, see the Glacier Bay Visitor Service Directory on the Goods and Services page.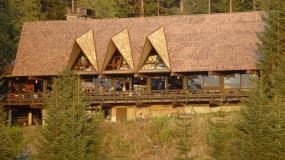 Glacier Bay Lodge provides accommodations within the park, at Bartlett Cove. The Concessioner also provides a daily boat tour into the West Arm of Glacier Bay during the summer operating season.
This fifty-six room lodge is operated under Concession Contract GLBA001-15.pdf. The Concessioner, Aramark Sports and Entertainment Services, LLC was selected to operate this concession. In addition to operation of the lodge, the contract requires the following services:
Day Tour Vessel services;
Camper/Kayaker drop-off services;
Food and Beverage service (full service restaurant);
Fuel sales;
Bus transportation.
Glacier Bay Lodge operating dates for lodging and restaurant, day tours and camper drop-off service are approved by the National Park Service annually and are posted here as well as the approved rates for these services. Concessioner rates are approved by the National Park Service. Rates are based primarily on comparability with similar services outside the park. The Concessioner may charge less than the approved rates in accordance with the terms of the contract.
The following is an electronic copy of their concession contract and maintenance and Operating agreement for the Lodge operation:
Operating Plan, Exhibit B
Maintenance Plan, Exhibit H
Concessioner Improvements, Exhibit K
Contact Concessions Specialist Melanie Berg by e-mail or telephone (907) 697-2230 for more information.


Last updated: October 6, 2017