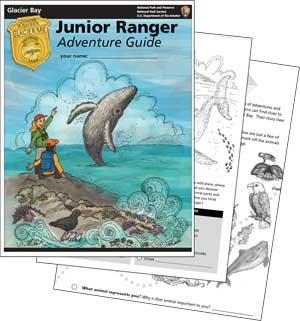 Glacier Bay
Junior Ranger Adventure Guide
26 pages PDF
So you want to become a Glacier Bay National Park Junior Ranger? You can get a copy of this booklet when you arrive in Glacier Bay. YThis activity book has 26 pages of fun learning activities. Some of the answers you can find within this website. Others you will have to complete when you arrive in Glacier Bay. You can download it here if you would like to get a head start.
When complete, show it to a park ranger and receive your official badge or patch!