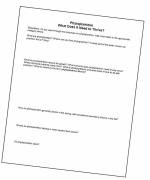 PROCEDURE
1. Phytoplankton — A Strong Base for an Ecosystem
Divide the Resources among students to read and distribute the Student Worksheet: Phytoplankton — What Does It Need to Thrive?. As students read their resources, tell them to look for information or data that will help to answer the questions on the worksheet.
Answers: Page 2 of the worksheet.
Discuss their findings in class. Would they be willing to give phytoplankton a "Biodiversity of the Year" award? Explain.
Answers: Answers will vary but, without phytoplankton in a marine environment, any food web would collapse. However, the more times phytoplankton bloom in an area, the more varied and extensive will be the number and type of animals found in the food web.